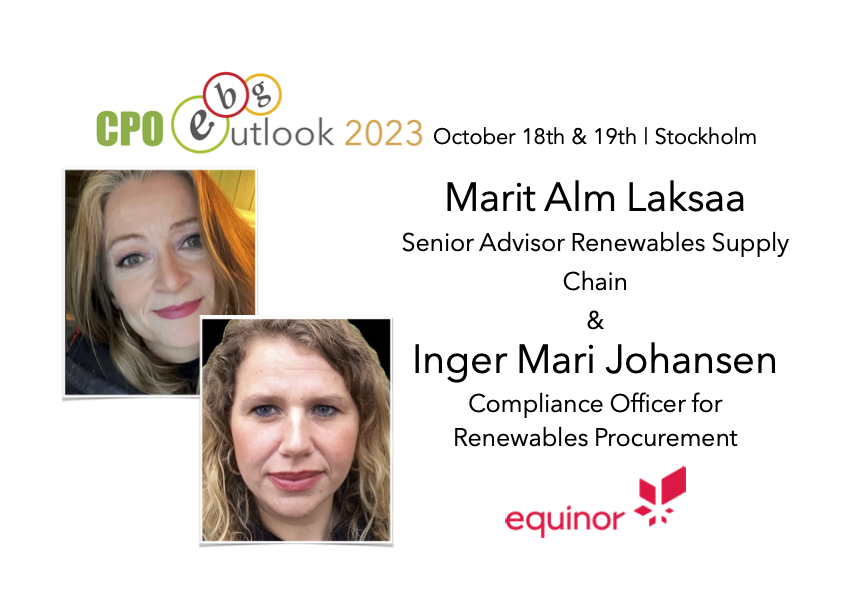 What if you were to help transform a large company from one focus to another? A change in focus that include changing procurement processes, ways of working and how to use technology. Give a warm welcome to Equinor joining CPO Outlook 2023 discussing just that.
You who join the summit in Stockholm on October 18th & 19th will have numerous possibilities to meet and discuss with procurement peers and experts. Like Marit Alm Laksaa, Senior Advisor Renewables Supply Chain and Inger Mari Johansen, Compliance Officer for Renewables Procurement at Equinor.
Equinor are shifting focus from being an oil and gas company to a renewables company. From a company with high margins to a broad energy company with low margins. This trigger a need for efficient processes. Agile ways of working. New suppliers of different sizes.
There are many of you experiences big shifts in ways of working – or a desire to shift ways of working. This round able discussion is a joint possibility to come together and learn as a group. To brainstorm what that efficient procurement processes could look like!
Brainstorm | How would you create best in class procurement processes?
Equinor is transitioning from an oil and gas company with high margin to a broad energy company in the renewables industry with low margins, high complexity, cost challenges, supply chain constraints, legal and political dependencies. Following this transition there is a need for efficient processes and agile ways of working. Processes and a digital framework need to support acting on insight in various supply chains, new developments on supply chain compliance requirements, and utilizing a diversified group of regional and global suppliers of different sizes and capabilities. 
How do global and local players qualify vendors, efficiently, on management systems, SSU including Human rights, green initiatives, monetary and business integrity risk. How to ensure that all its suppliers and sub suppliers operate in a compliant and transparent manner throughout the contract lifetime? What qualification tools and methods do you apply? How do you map risks and how do you follow-up and document mitigation actions? As is enabling smaller regional and local suppliers to be able to be approved and followed up.
During this session you will come together to share and discuss how you have or would want to set up global and regional processes and compliance to be as efficient as is possible.
Discuss what efficient/lean procurement processes that enable the below should be like (even if they aren't today);
Enabling Compliance efficiently in a global and complex market with numerous variables (is by default possible?)
Ensuring Efficient category mgmt
Supporting Business model innovation
Enabling ways to utilize digital opportunities
A unique opportunity to be creative and think outside the box as a peer group! Imagine what can come out of that discussion.
About Marit
Marit Alm Laksaa is Senior Advisor Renewables Supply Chain at Equinor.
Education: University of Baltimore, Maryland USA
Master of Business Administration
Entrepreneurship, Master of Science: Finance
Experiences; Supply chain strategy development, change management, Category and supplier relationship management, business representative for various digitalisation projects, disruptive innovation impact analysis, business model innovation projects, supply chain analyst, product owner for commodities trading and operations, crude trading and commercial oil and gas operations.
About Inger Mari
Inger Mari Johansen is Compliance Officer for Renewables Procurement at Eqionor.
Education: Master of law at University of Bergen, Advanced Negotiations, Certified Deal Architect (CDA sertified) at University of Tennessee (Vested method)
Previous experiences: Head of GDPR Task force in 2022 (after the Schrems II verdict), Acting manager for Claims & Warranties, Establish first relationship based contract on Vested method for Equinor, Leader legal task force Covid-19, Specialist SCM and claims and warranties, Project manager for establishment of contract templates and models for procurement in Equinor.
About Equinor
Equinor is an international energy company headquartered in Norway with 22,000 employees in 30 countries. Total revenues: 90,924 USD million (2021).
Their ambition is to be a leading company in the energy transition, and they aim to create value through the opportunities the energy transition brings, breaking new industrial ground by building on their 50 years of experience.
Equinor in a nutshell

In 1972, Statoil was formed by a decision of the Norwegian parliament and owned 100% by the Norwegian State. In 2001, Equinor was listed on the Oslo and New York stock exchanges with a 67% majority stake owned by the Norwegian State. In 2018 we changed our name to Equinor.

Equinor in brief
About CPO Outlook
In short a unique opportunity to meet with peers and experts in an informal setting. Being able to learn from joint hundreds of years of experiences. Unlike most other conferences and events you choose round table discussions and workshops based on Your interests thus knowing for sure you will meet others sharing the same interests as You. Therefor seats are limited. >>Register today and join an incredible group of people eager to share and learn!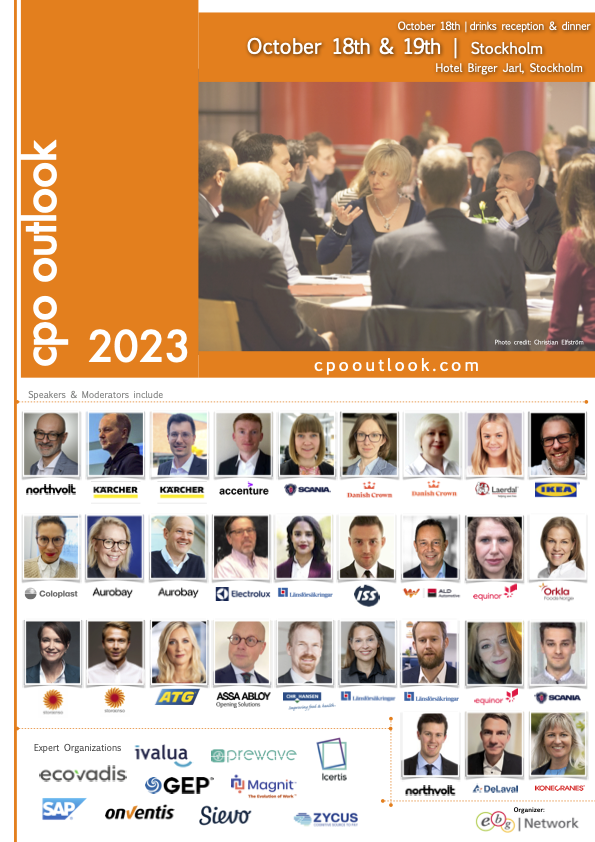 If you join a conference you should expect to meet others sharing the same interests as you. Why else leave your desk? But how do you find those people if all of you only face a stage all days long? You don't unless you happen to come across someone.
This is what sets an EBG summit apart since 2010 – bringing experienced and curious people together for quality experience exchange.
>>Download the program here (always updated program via the summit website)