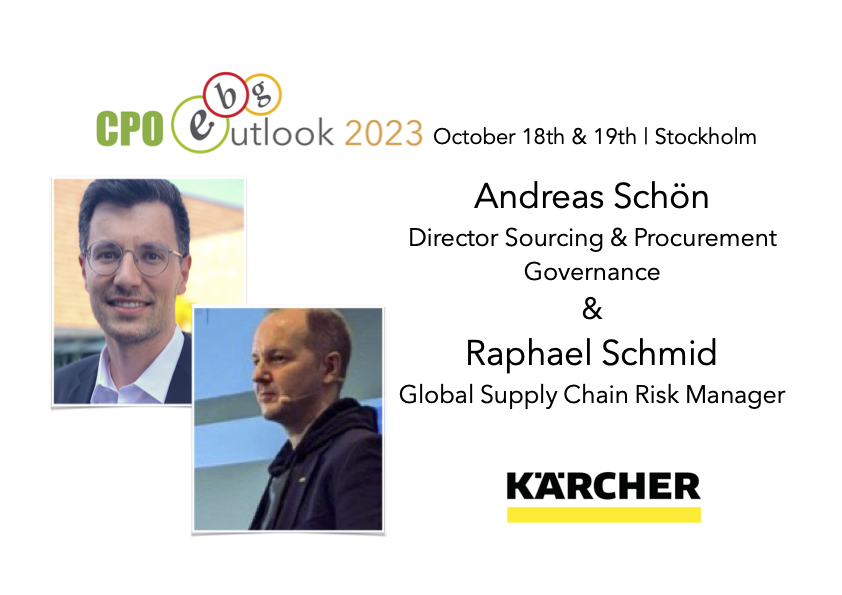 A warm welcome to Kärcher joining CPO Outlook 2023! On October 18th you who join the summit in Stockholm will learn from Raphael Schmid, Global Supply Chain Risk Manager & Andreas Schön, Director Sourcing & Procurement Governance at Kärcher.
What has their supplier risk management approach been? All companies have become aware the past years how much and hos fast a supply chain may be affected by disruption.
Their keynote will be about;
Keynote | The Kärcher approach: How Kärcher ensures holistic, sustainable and effective supplier risk management
Learn more about;
Kärcher's software-based approach
How Kärcher designed a cross-functional global solution for End-to-End Supply Chain Security
How the Kärcher approach aligns with supply chain legislation
This keynote is enabled by Prewave.
About Kärcher
Alfred Kärcher SE & Co. KG generated sales of 3.092 billion euros in 2021, which was the highest turnover in its history. The family business employs 14,400 people in 150 companies located in 78 countries.
Over 50,000 service centres worldwide ensure a seamless supply to customers all around the globe.
Kärcher has set itself the goal of focusing the company's social commitment on the preservation of value. As part of its cultural sponsorship programme, over 160 monuments worldwide have been cleaned and restored since 1980.
About CPO Outlook
What if you could come together with peers and experts and draw from their experiences in an informal setting? If you could be inspired by keynotes as well as learn from the behind the power point lessons learned? About the bits and pieces that developing businesses consists of.
That is an EBG summit. Limited number of seats, 34 round table discussions and 8 workshops, drinks and dinner. A group of people interested in sharing their challenges and ways of solving them as well as listening to Your thoughts and ideas.
EBG have enabled networking summits since 2010 and CPO Outlook is a two day in person summit in Stockholm.