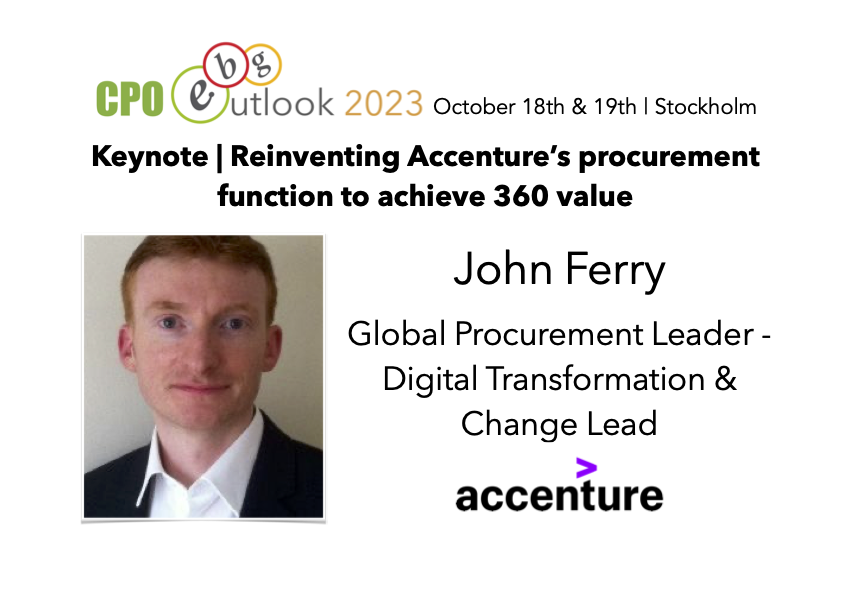 A warm welcome to Accenture joining CPO Outlook 2023. They have done a remarkable 360 reinvention of their procurement function. How? This we will learn on October 18th and 19th in Stockholm. John Ferry, Global Procurement Leader – Digital Transformation & Change Lead at Accenture will share his and their insights.
Learning How other companies have enabled their shift from one focus to another. How they are developing ways to use gather and use information. Who are doing what in a global world where people work regionally or locally. In short – the many complex and complicated aspects that developing businesses include.
You will learn;
Keynote | Reinventing Accenture's procurement function to achieve 360 value
Accenture re-imagined its procurement function as a digitized and connected network. Here you will learn how. Digital transformation is at the heart of this change, global processes enabled by a strong digital core. Here you will learn in what way. Focus of this change was transforming the upstream process from capturing demand, sourcing and contracting. Learn about the new value and benefits this change brings.
This session is enabled by Icertis.
About John
John Ferry is responsible for leading Accenture's internal Procurement Transformation and Change Management. Bringing customer centricity to the core and reinventing procurement as a connected and digitized end to end procurement function. Helping teams to embrace new technology and pivot to a data driven culture.
About Accenture
Accenture is a global professional services company that helps the world's leading businesses, governments and other organizations build their digital core, optimize their operations, accelerate revenue growth and enhance citizen services—creating tangible value at speed and scale. They are a talent and innovation led company with 733,000 people serving clients in more than 120 countries.
We are able to deliver tangible outcomes because of their broad range of services, solutions and assets across Strategy & Consulting, Technology, Operations, Industry X and Accenture Song. These capabilities, together with our culture of shared success and commitment to creating 360° value, enable us to help our clients succeed and build trusted, lasting relationships.
About CPO Outlook
Anyone involved in business development know that it take in depth change management skills to succeed. That it take time. Today procurement are expected to do more without necessarily having more resources. At CPO Outlook we come together to have informal yet to the point discussions. This is one of very few opportunities where you get the How and Who based on reality.
There are a few seats left, >>register here and start choosing among 34 round table discussions and 8 workshops that may revolutionize how you solve your challenges ahead. Or "just" help you confirm if what you are doing is in the right direction or not.