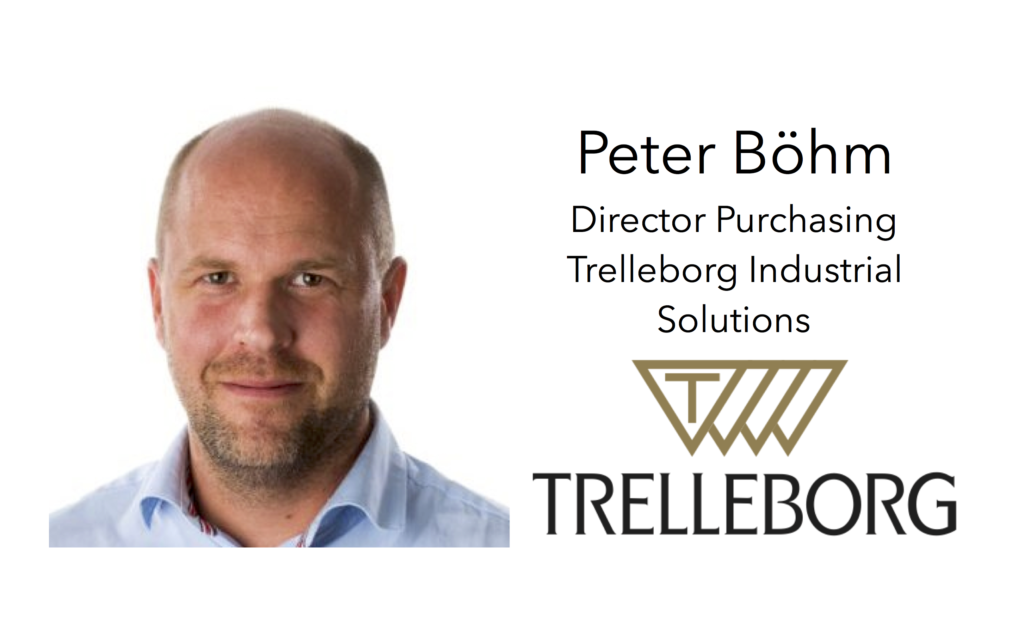 A really warm welcome to Peter Böhm joining Source 2 Pay Summit 2017 as a moderator who together with Qlik invite you to share know how. Peter Böhm is Director Purchasing for a business unit within Trelleborg Industrial Solutions.
Peter is hosting Theme Discussions which you can start register for upon registration. First come first served. Peter host these discussions together with Qlik.
EBG | Network hosted a webinar together with Peter a while back, a webinar you can view here (webinar in Swedish summary in English).
Trelleborg Industrial Solutions is a leading supplier of polymerbased critical solutions in such industrial application areas as hose systems, industrial antivibration solutions and selected industrial sealing systems.
Trelleborg Industrial Solutions comprises five market segments:
General industry: Fluid-handling solutions, such as hoses, expansion joints and elastomer materials. Antivibration solutions, such as vibration dampers and precision components.
Oil & gas: Marine hoses for handling oil and gas.
Infrastructure construction: Pipe seals and repair of drinking water and wastewater systems, sealing profiles for facades, windows and doors.
Transportation equipment: Vibrationdamping and acoustic solutions for track-bound vehicles and marine applications as well as off-highway vehicles. Sealing systems for trains and trucks.
Light vehicles: Polymer boots for drive shafts and steering applications.
Trelleborg comprises five business areas: Trelleborg Coated Systems, Trelleborg Industrial Solutions, Trelleborg Offshore & Construction, Trelleborg Sealing Solutions and Trelleborg Wheel Systems, and the operations of Rubena and Savatech. The Business Areas are divided into Business Units, which in turn comprise a number of Product Areas.
About Source 2 Pay Summit
Welcome to the 7th annual Source 2 Pay Summit held March 29th (voluntary dinner) & March 30th (main conference in Stockholm). The idea being that challenges and opportunities within sourcing, procurement and finance need to be discussed as parts of an end-to-end process.
How are business strategies translated into strategies for sourcing, procurement and finance? And how are those strategies being operationalized? Who need to do what based on how you are organized in order to achieve set goals?
Ad to that a changing supplier landscape and increasingly global markets and you have the layout for this summit.
At Source to Pay Summit we don't give easy answers but offer quality ways of asking questions and exchange experiences.