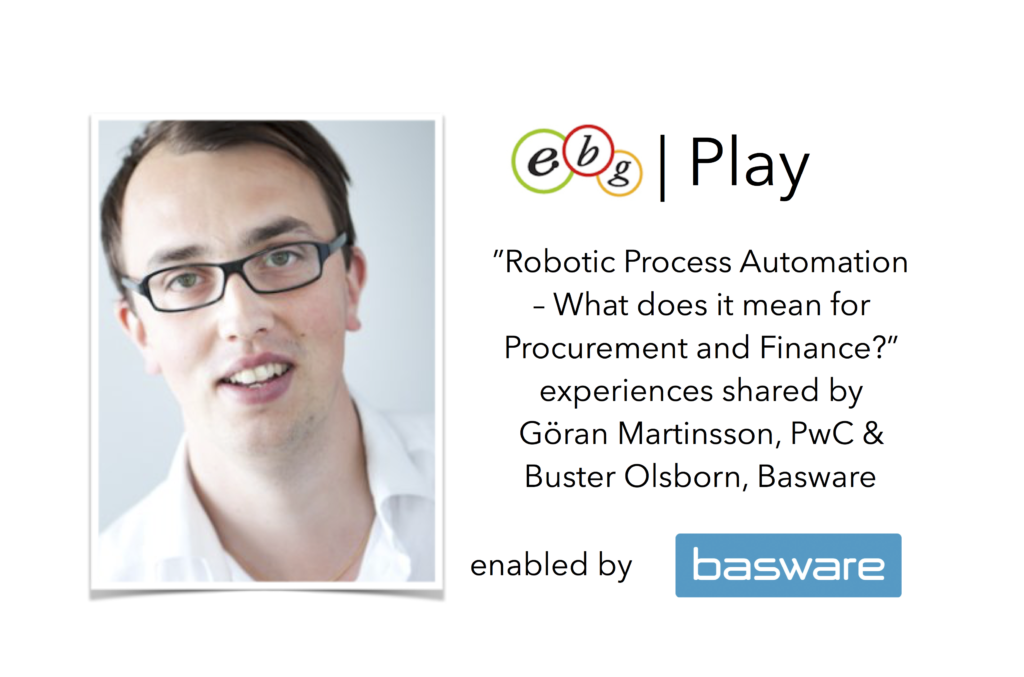 We say WOW. What HUGE interest last weeks webinar session about robotic process automation with Göran Martinsson at PwC and Buster Olsborn at Basware generated. Across the globe and across functions. Thank you all who joined us live and all of you who registered.
Leading up to this webinar EBG wrote a statement saying "In our organization, an e-procurement system is used to create orders using online catalogues with negotiated contracted prices. Invoices are received electronically and interfaced directly with our ERP system. An electronic workflow system for PO approval and invoice exception management is used as is self billing where possible. We are Best in Class." Is that your organization? It's not with most companies for majority of their spend and transactions.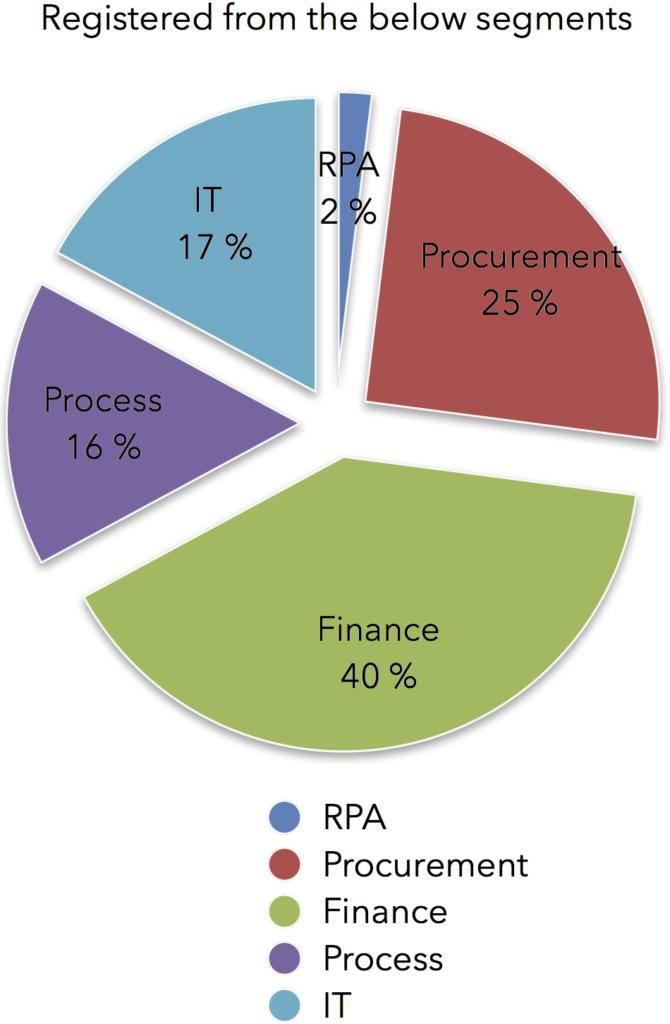 EBG have workied with end to end processes and transactions for an enough long time to know that large organizations still struggle with automating – or even having an understanding over – quite basic aspects such as who do we buy from, at what cost and did we get what we ordered.
Can robotic process automation – RPA – help fix those seemingly broken processes?
One webinar participant sent in two great questions: Is automation of processes a pre-requisite of implementing RPA? Or is the automation of processes an alternative to RPA?
Attendee function breakdown
EBG segmented all who registered and focused on segmenting them into a few areas such as finance, procurement, RPA, process and IT. It was a pleasure seeing so many different areas present – all of which is comforting considering how important it is to have cross functional collaboration when working with business development affecting and being dependent on more that one function.
Robotic Process Automation recorded session
You can find out for yourself by looking at the recorded session. All of you registered also received the slides via email and were the first to see the recording.
Access the on demand webinar here
Göran and Buster did a great job giving their view on what impact robots may have on procurement and finance and especially on repetitive processes able to standardize. One dilemma though being that even if accounts payable seemingly carry significant improvement potential through operational effciency, Göran states that:
"The root cause for low PO matching often lies within the purchasing process: lack of standardization in purchase orders, mismatched invoice and P.O. numbers, or too many exception items that must be handled outside the usual processes."
That is – errors taking place outside AP and – given how SLAs and KPIs are set up – possibly outside the scope of continuous improvement tasks. With that said – can robotic process automation be the fuel that enable those in need to to realize the potential in process compliance?
Wonder how a system provider like Basware summarize this session? You can find their recap >>here the link will take you to their website.
Robotic Process Automation poll questions
Given the huge interest in this webinar session, finding out what the diverse group of attendees thought of RPA progress in general och process development specifically was very interesting. Compare with what answers You would give!
The numbers given come straight from the tool and are without decimals hence sometimes adding up to 99% or 101%. When adding up to far above 100% it is because multiple answers were allowed.
What will have the biggest impact improving your AP process performance?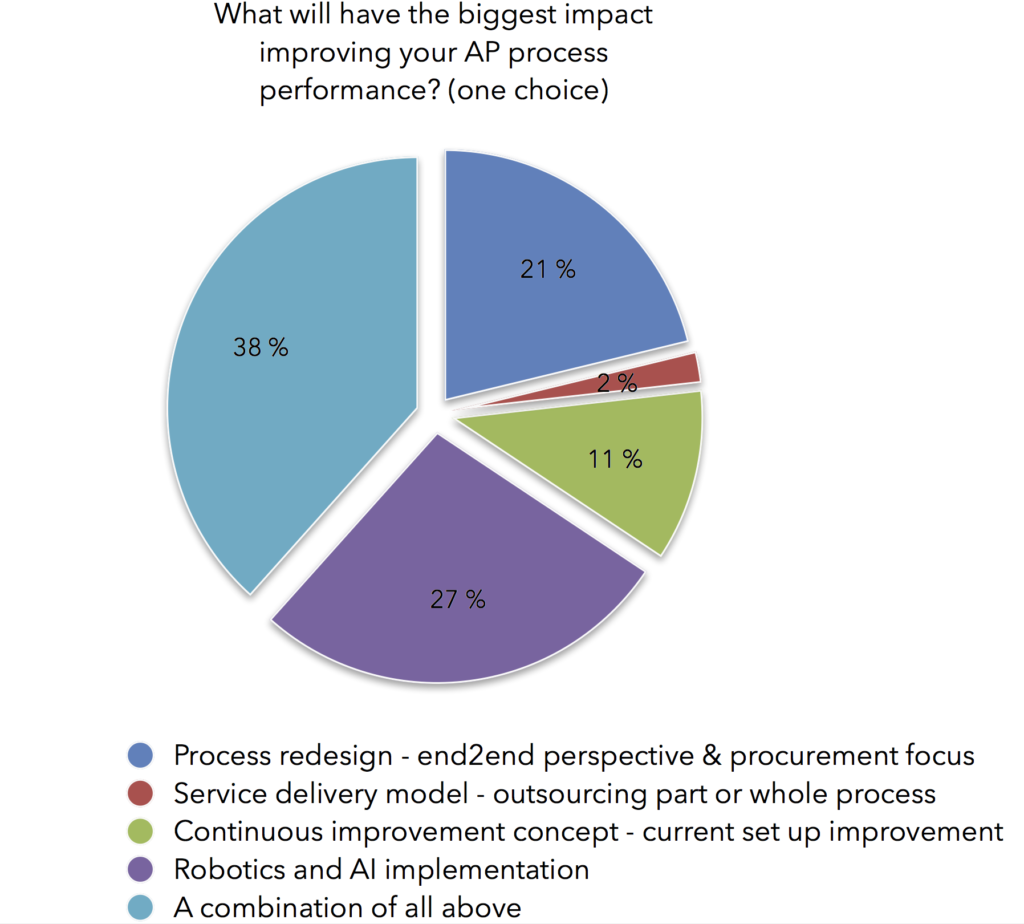 Given the opportunity to say "all of the above" one can either see it as an easy way out or be really happy so many consider the multitude of actions needed to improve accounts payable process performance further. EBG are specially happy to see the focus given to process redesign – a focus we have had for years, especially present during the annual Source 2 Pay Summit.
Have you implemented Robotics in your AP function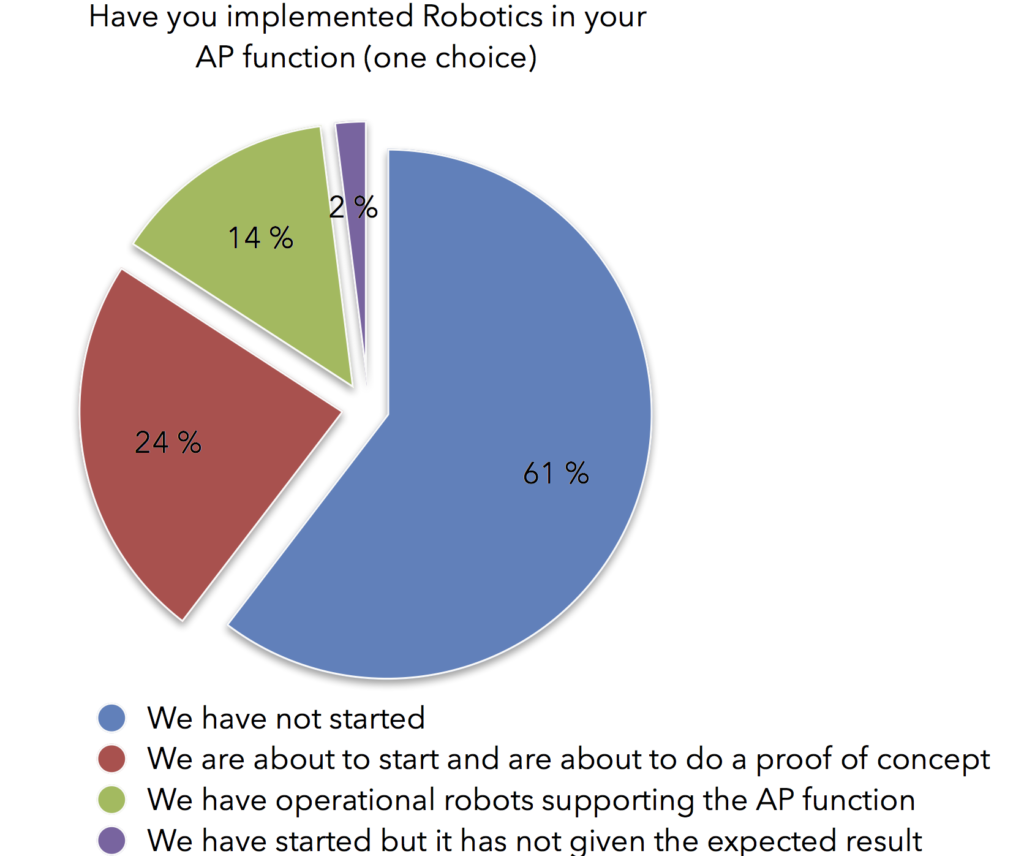 Interesting results! As many as 40% of those attending have or will be implementing robots into their AP function.
Where in the P2P process do you think you will benefit the most from robotics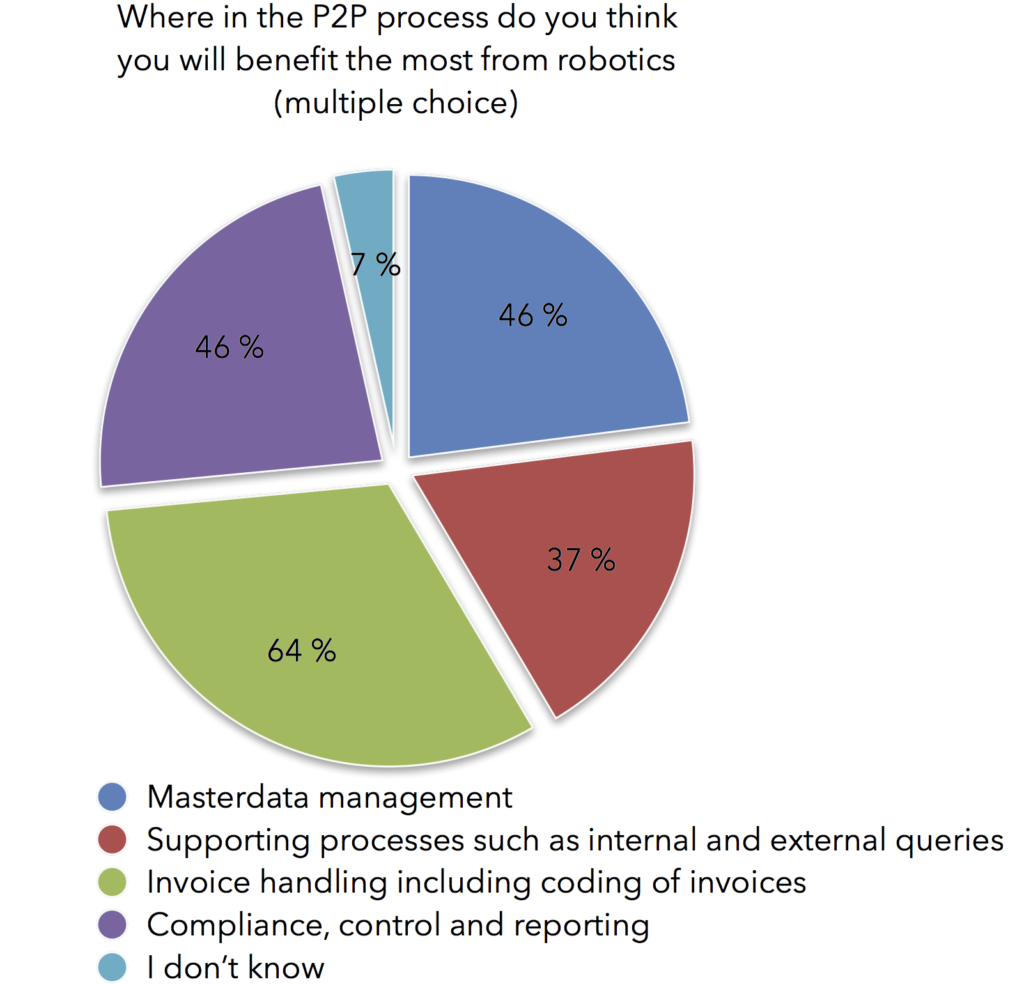 Here somewhere the answers become really interesting for companies such as Basware. It is commonly known that many systems are not used to the extent possible – for many reasons. Göran here share one conversation where a customer wanted to implement robotics to help with a challenge their existing workflow system could very well manage.
What do you think are the critical success factors for your automation journey
What are your critical success factors? Is it true for your organization too that you are not fully aware of what you spend, from who and at what cost and possibly not being entirely sure if you got what you ordered? What could help your organization gain insight in order to understand what to do next?
EBG hope you get some valuable insights taking part of the above recorded session – again a big thank you to both Göran Martinsson and Buster Olsborn and of course to Basware, enabling this session to come true. Basware can be met, discussed with and learned from at the upcoming Source 2 Pay Summit in Stockholm where we never focus on easy answers.
With the hope of seeing you again – irl or online!