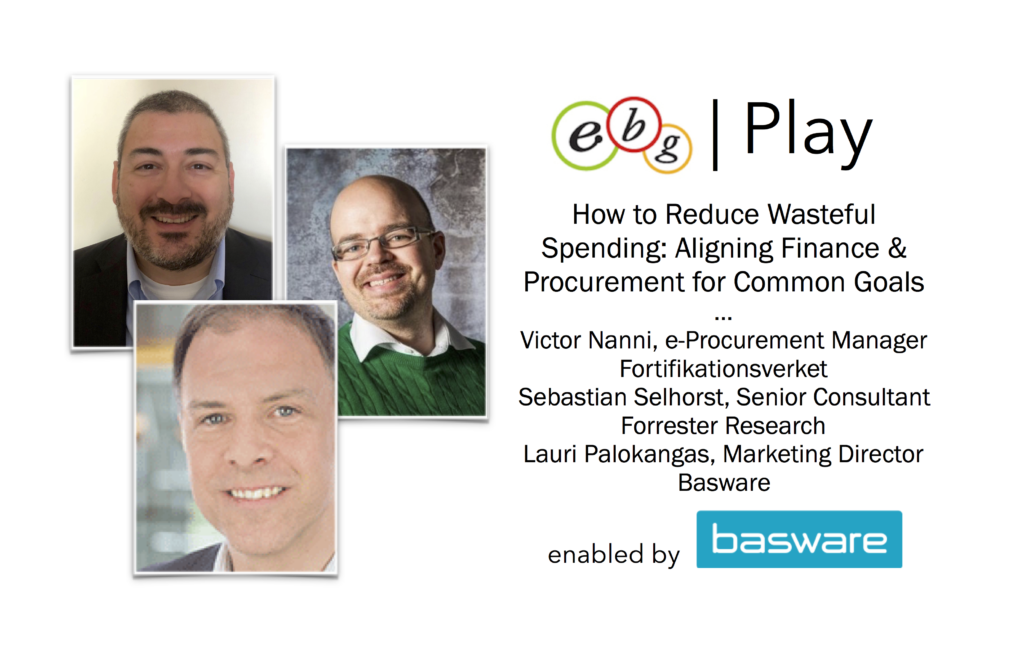 Aligning procurement and finance is an always returning topic within EBG | Network. Separate functions, KPIs, systems and how about organizations and even countries. It is not an easy task but the outcome can make huge difference. Difference on  bottom line figures, difference enabling an organization to use correct data growing further and difference ensuring that all work that is being done is rendering desired results.
During an EBG | Network webinar, enabled by Basware, Sebastian Selhorst at Forrester, Victor Nanni at Fortifikationsverket and Lauri Palokangas at Basware gathered from different parts of Europe to share alignment challenges and opportunities.
A Forrester Total Economic Impact Study was commissioned by Basware and the report published November 2017. The study is called "The Total Economic Impact Of Basware's Purchase-To-Pay Cloud Solution" and offer interesting insights into what real value can be found when implementing the system as intended. A great way to build a business case! >>Here you can find the report
Over the years EBG | Network have come across numerous companies that bought a system yet failed to see the desired results. Opening up for the question – is it the systems "fault", misplaced strategies, ways of operationalizing the strategies, to little time spent on change management or a combination of even more aspects?
Do join EBG | Network and Basware at Source 2 Pay Summit 2018 April 24th in Stockholm and have just that discussion with peers. >>Here you can learn more
Back to the webinar.
Here is the recording for You to compare with your current situation:

#1 Finance focus area
The first poll question aimed at understanding how the attending companies choose to focus their efforts within finance. We sought for one choice and the winner was automating finance processes to be able to do more with existing staff.  Not a surprise to Lauri – it is a trend that has been present for several years now. Not focusing on capturing early pay discounts however was somewhat a surprise (hear comments after each poll). We asked for comments on what the 11% stating "something else" was however we received few statements (understandable since in order to keep up one need to focus!).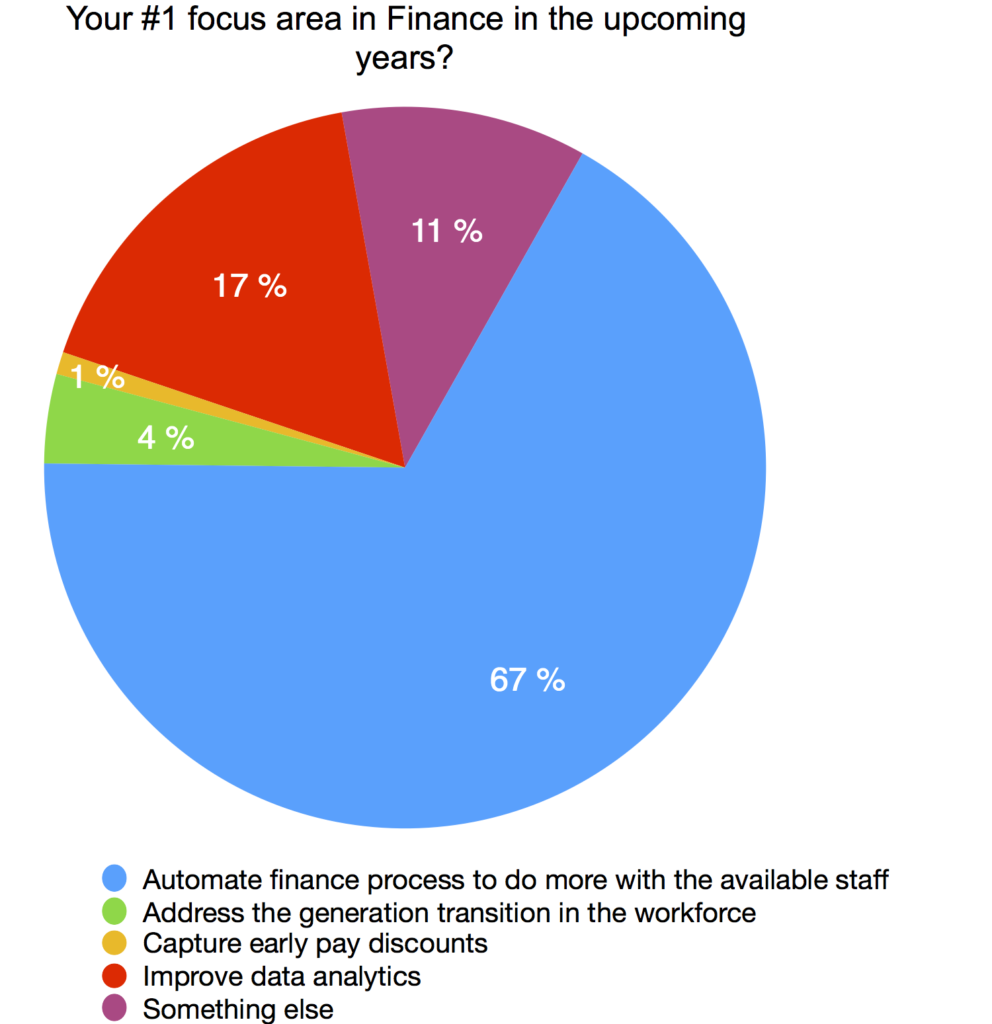 State of Purchase to Pay collaboration
This poll question was about creating a maturity scale among the peers listening in where limited collaboration mark the lowest degree of  collaboration, where interactions are made mainly due to managing exceptions rather that anything else. End to end processes working optimally and the main focus being to promote continuous improvement marked – in this case – the highest degree of maturity. The results indicate that 50% do not have end to end processes that are satisfactory yet collaborate to make a difference and develop further. A group of 34% seem to be working in a ad hoc way. A possible paradox – and we will see how for instance robotic process automation, artificial intelligence and other developing technologies can help solve this problem – is that most want to automate.
EBG have previously asked if there today are ways to automate bad processes – no being the underlying statement – however for instance Ericsson will share how they – momentarily – are "fixing" processes under development with the help of RPA. >>Learn more here (PDF)
Other views on this matter can be found via a >>previous webinar enabled by Basware focusing on "Robotic Process Automation – What does it mean for Procurement and Finance?"
Back to the webinar.
#1 Procurement focus area
The obvious result here would be a majority choosing option one – that their number one procurement focus is to reduce cost. There are few conflicts instead choosing improving control and visibility but it indicate a deeper understanding into the possible complexity corporate spend may have. A single focus on cost reduction have helped few companies grow whereas increasing an understanding into the what, why, how and when a business choose to invest externally really can help find ways to both reduce cost and find new business opportunities and ways to collaborate. It is for sure so that many of the choices are linked with one another and here too we got no insights into the 8% choosing "something else".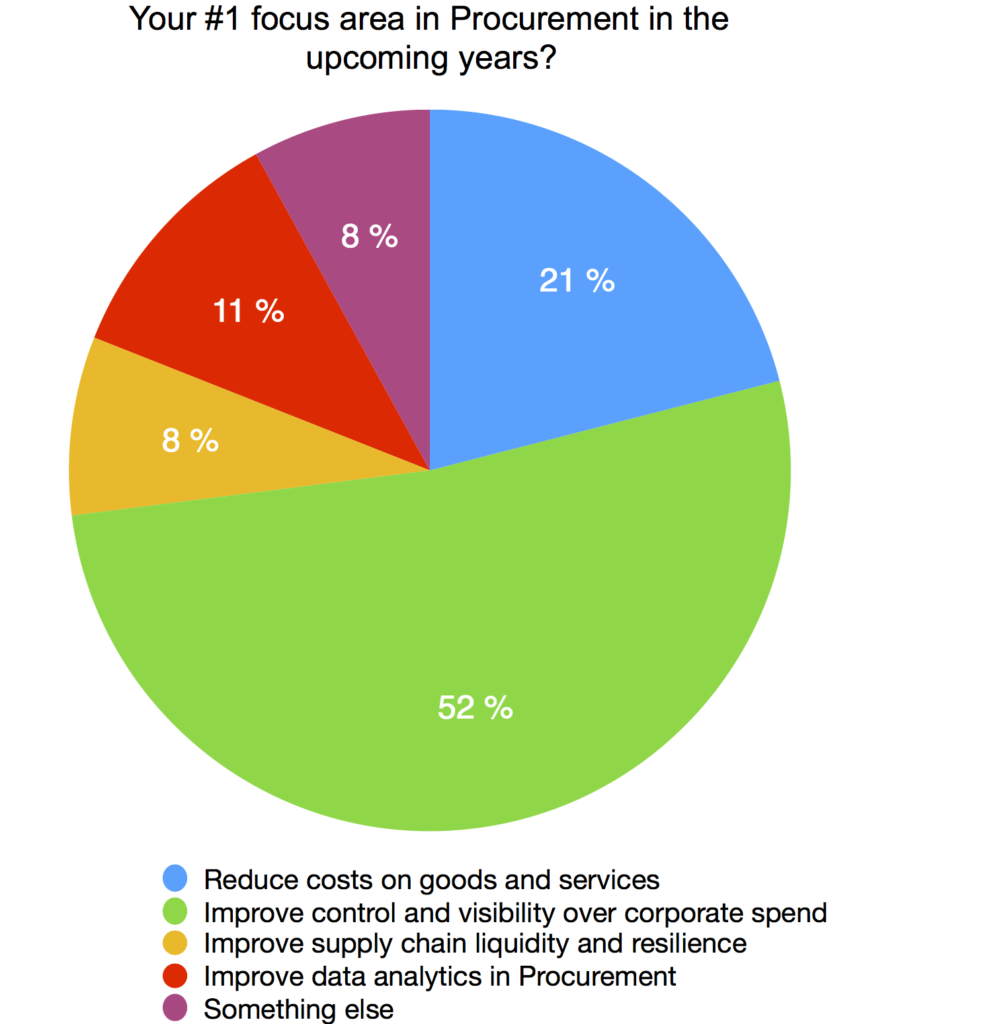 Summary
Enabling end to end processes is a tough job. Finding ways to automate those processes are too. Having a clear business case to back up the potential in and a help defining what is is really important. Allocating enough resources once deciding is a must – and so again a paradox? For EBG – looking at the possibilities in having an end to end perspective on both company spend and company growth is becoming increasingly easy but the job has to be done.
About Basware
Basware is the global leader in providing purchase-to-pay and e-invoicing solutions in the world of commerce. We empower companies to unlock value across their financial operations by simplifying and streamlining key financial processes. We help our customers to succeed and create added value to their business through better financial management. Our Basware Commerce Network, the largest open business network in the world, connects 1 million companies across 100 countries and enables easy collaboration between buyers and suppliers of all sizes. Through this network, leading companies around the world achieve new levels of spend control, efficiency, and closer relations with their suppliers. With Basware, businesses can introduce completely new ways of buying and selling to achieve significant cost savings and boost their cash flow. Find out how Basware helps money move more easily and lets commerce flow at Basware
twitter.com/basware
facebook.com/BaswareCorporation
linkedin.com/company/basware
About Fortifikationsverket
The Swedish Fortifications Agency is the largest real estate owner in Sweden. Their main focus is to manage the diverse defence estates.
The agency also take part in creating a secure and robust civil society. Since 2008 they are a part of Sweden's emergency management system. Ultra-secure facilities are their forte.
About Forrester
Forrester (Nasdaq: FORR) is one of the most influential research and advisory firms in the world. We work with business and technology leaders to develop customer-obsessed strategies that drive growth. Forrester's unique insights are grounded in annual surveys of more than 675,000 consumers and business leaders worldwide, rigorous and objective methodologies, and the shared wisdom of our most innovative clients. Through proprietary research, data, custom consulting, exclusive executive peer groups, and events, the Forrester experience is about a singular and powerful purpose: to challenge the thinking of our clients to help them lead change in their organizations.
About EBG | Network
A small company with big ambitions to make a difference. To enable great minds to meet through different channels. To make it possible to create real change.