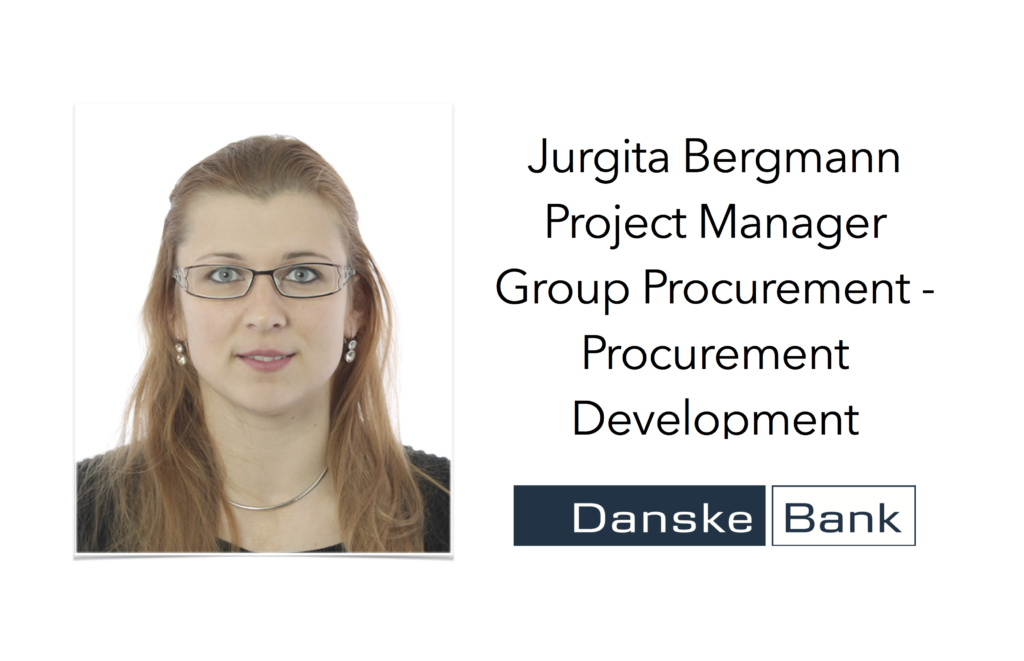 A warm welcome to Danske Bank joining Source 2 Pay Summit 2018 April 24th in Stockholm! Jurgita Bergmann, Project Manager, Group Procurement – Procurement Development at Danske Bank have for the past year been exploring and evaluating RPA, Cognitive computing, AI and other ways of digitalizing source to contract and purchase to pay ways of working.
At Source 2 Pay Summit 2018 you will be able to sit down and learn what insights the evaluation gave and also compare within the group – where are you on your digital journey.
There is no doubt that digitalization is a hot topic in most companies. Buzz words without context, without a clear goal and without proper benchmark and evaluation – what is that? How can you create a strategy if you cannot compare possible outcome and what it will take to go there? At Source 2 Pay Summit we are aiming to connect strategy, ways of choosing how to manage operations and – of course – how to govern the developments over time.
About Danske Bank
Danske Bank is a Nordic universal bank with strong local roots operating for more than 145 years. Danske Bank are present in 16 countries, have 19 700 employees and millions of customers.
About Source 2 Pay Summit 2018
We meet for the 8th time in central Stockholm at a time of the year where the spring has arrived in the capital of Sweden. As one of few conferences, Source 2 Pay Summit gather professionals from different functions to talk about an end to end perspective stretching from sourcing – through procurement and on to finance. It is an internal perspective and an external perspective. Most who join the summit have tens of thousands of suppliers on record.
At Source 2 Pay Summit we allow ourselves to ask questions and to learn from each other. We invite companies that have talked the talk and walked the walk and we invite companies that are in the beginning of a journey or have just walked a few miles.
EBG | Network work under the assumption that no company are on their final destination when it comes to end to end efficiency and effect. Welcome to join us if you see a value in being strengthened about your company road map as well as questioning the same. Register here and we'll see you in the spring!
Learn more from Danske Bank
A while ago, EBG | Network conducted an Online Benchmark Sessions about how companies view Business Process Outsourcing and ways of improving F&A, finance and accounting and S&P, sourcing and procurement. Take a look here if you want to view the sessions featuring Danske Bank.