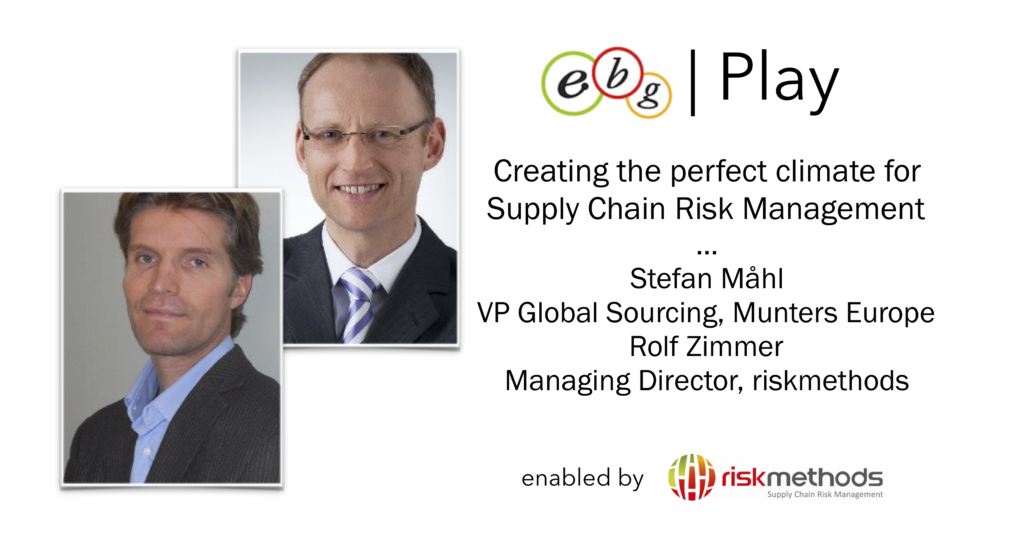 It was a pleasure sharing supply chain risk management know how from Stefan Måhl, VP Global Sourcing at Munters Europe and that of Rolf Zimmer, Managing Director at riskmethods. It was also a pleasure highlighting the experiences shared by you who joined in live – giving a live webinar an extra value.
You may also want to listen in to a previous webinar EBG hosted featuring Husqvarna and riskmethods. Let's also see how the poll results compare – one year apart.
If possible you can still join EBG | Network, riskmethods and Nokia to share supply chain risk management face-to-face at Source 2 Pay Summit 2018, April 24th in Stockholm.
Back to the webinar.
View the recording
Below you can view the recording and learn first hand about some of the prerequisites Munters Europe had moving ahead with their widened supply chain risk monitoring. You will also learn about their current monitoring and what type threats (beyond financial) that Munters Europe keep track on.
Experiences from peers online
An EBG signum is enabling peers to compare with each other – both online and in real life. Although there are limitations to online tools – the results can be telling!
Personal drivers developing SCRM
We first of all thought it would be interesting to learn what drivers the attendees have exploring and developing supply chain risk management.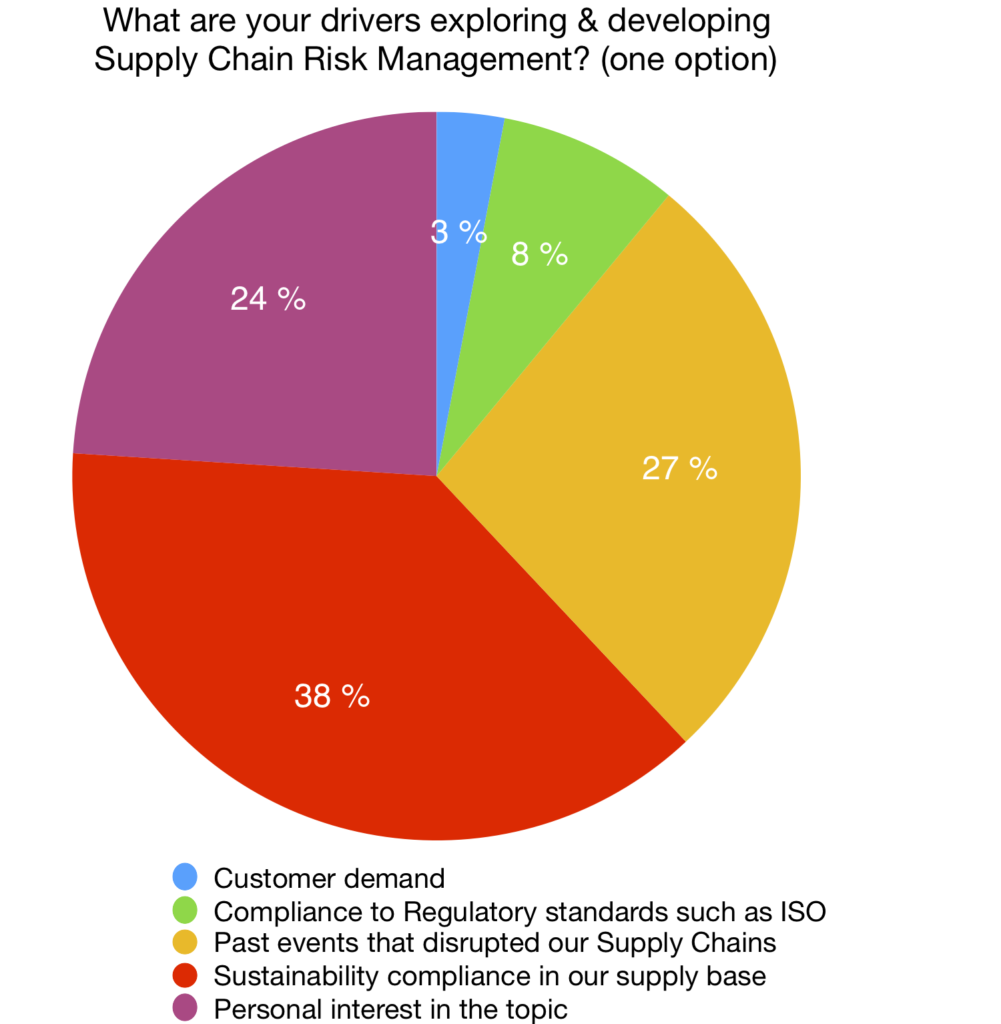 As always, a personal interest is of highest value as is finding ways to ensure sustainability compliance and not surprisingly past events.
Current SCRM scope
This exact question was asked a year ago during the Husqvarna webinar. Most agree risk monitoring beyond financial health is really important.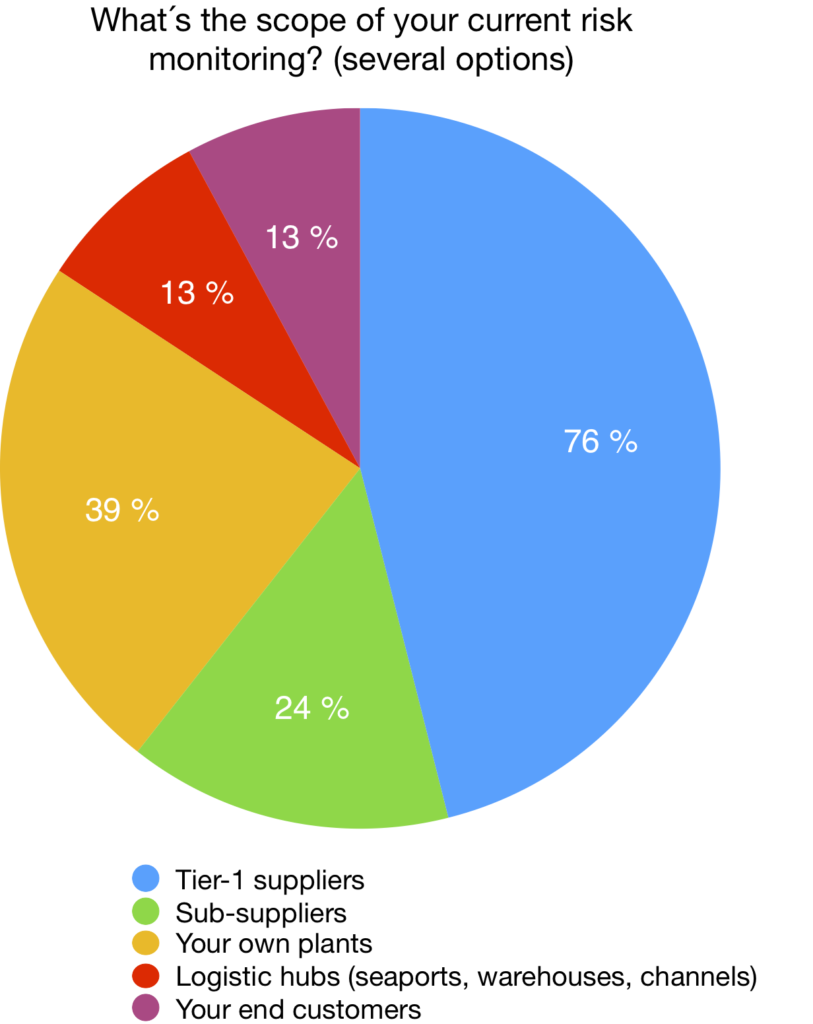 The figures are quite similar to those a year back – then making riskmethods Heiko Schwarz type down the below;
Report with many data points about supply disruption root causes (financials is no. 10 there!)
Our data of more 4 years in operations with millions of data points (financials are no 17 there!)
7 of 10 respondents do not have sub-tier visibility – this is tough as 51% of the supply disruptions origin from tier 2 or below!
3 of 10 don not track risks in their supply base at all!
23% of respondents consider logistic hubs in their monitoring: 77% do not and haven´t switched their mindset to supply chain oriented approaches. what happens if the port is at strike?
Those 73% who monitor threats of their supplier watch at supplier health (88%) – disastrous as this is a minor root cause of disruptions (they miss 10 to 16 more likely root causes)
Sources: Business Continuity Institute & Zurich Insurance 2016 & riskmethod's own studies and data
What type threats are being monitored
Here we see a slight difference from last year (of course not statistically interesting, answers also depending on what type organizations attended) with an increase of companies monitoring geo-political aspects and natural hazards.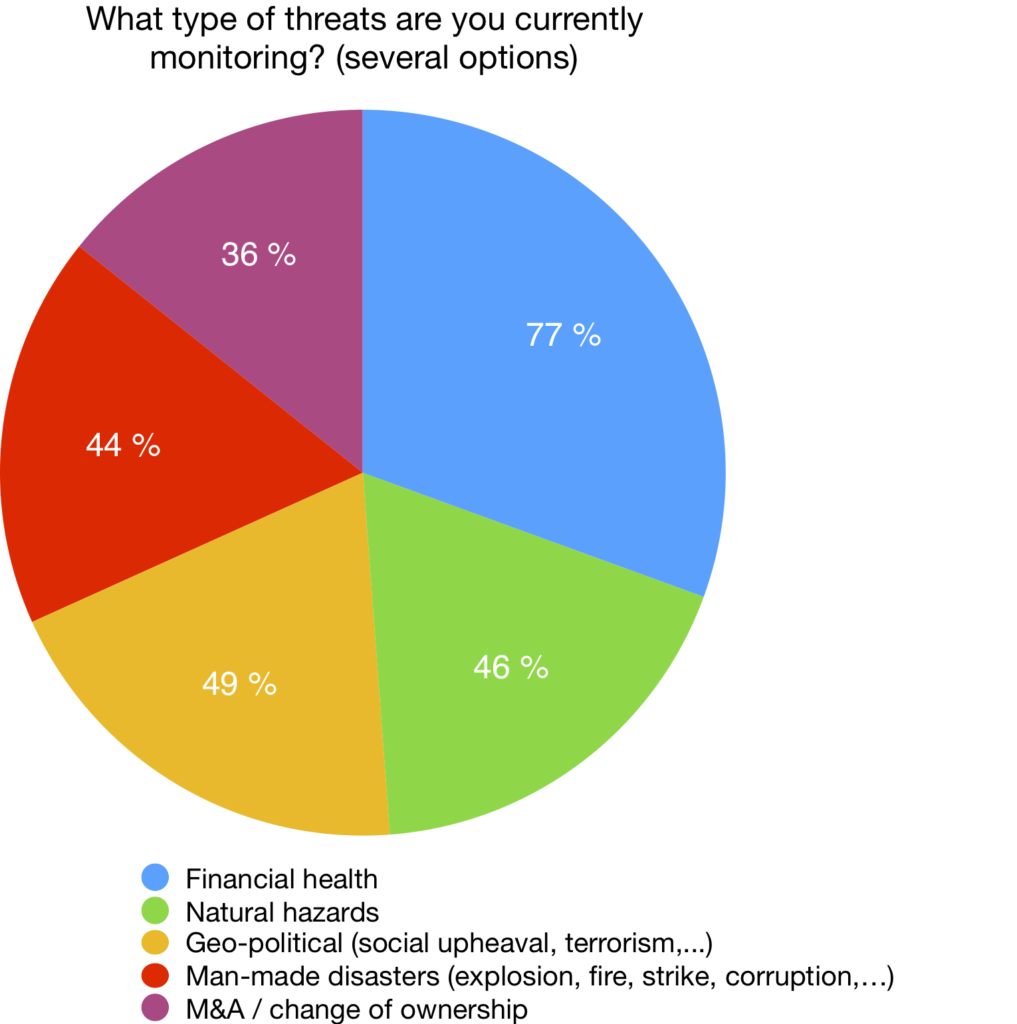 What is the #1 challenge widening the SCRM scope
So what are the challenges? If most agree that tier 1 suppliers and financial health is not enough – why is there seemingly a slow development? The below and final poll question indicate the usual time and resources being the number one obstacle widening the supply chain risk management scope. Closely followed by identifying, collecting and harmonizing risk data.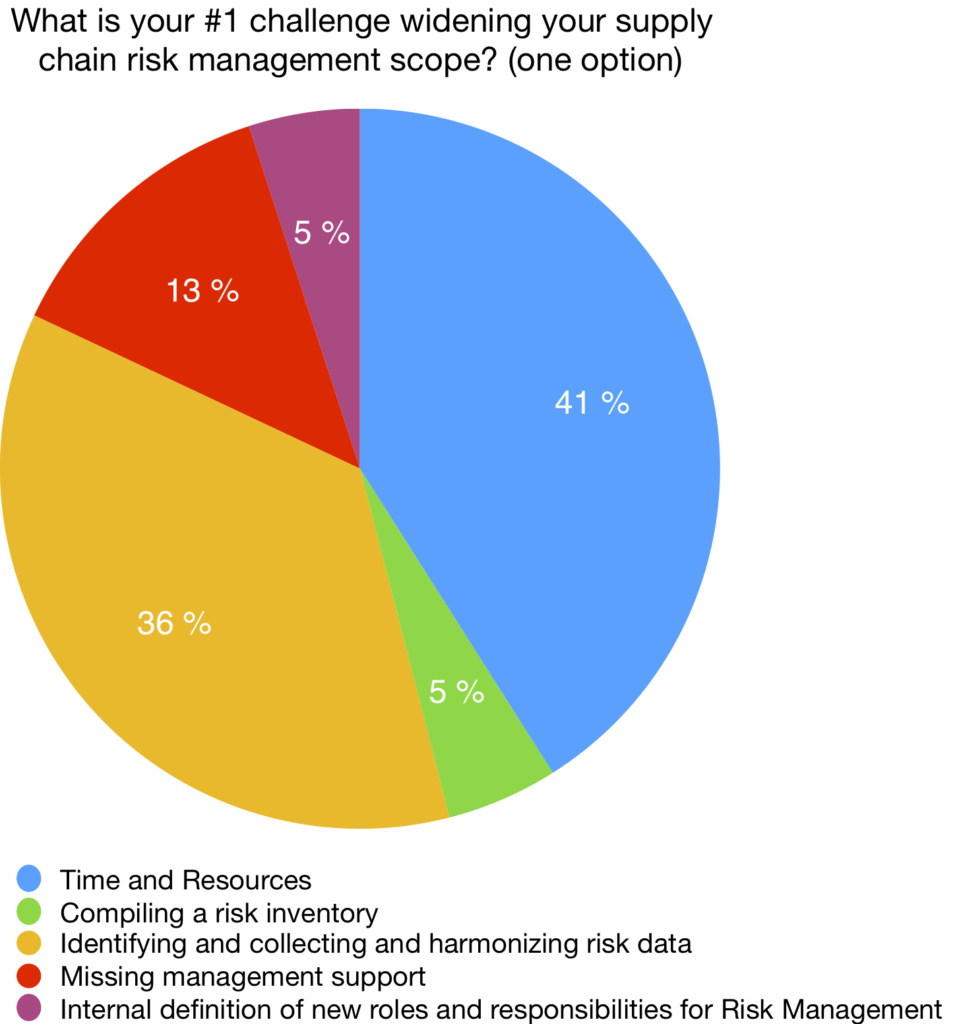 Digitalization and automation
There is and has been a "digitalization" wave past years – also so within supply chain risk management and sustainability monitoring. Financial health and tier 1 suppliers have been and still are the most commonly monitored aspects of a network of business relationships and threats that reach far beyond.
EBG look forward to following the developments ahead!