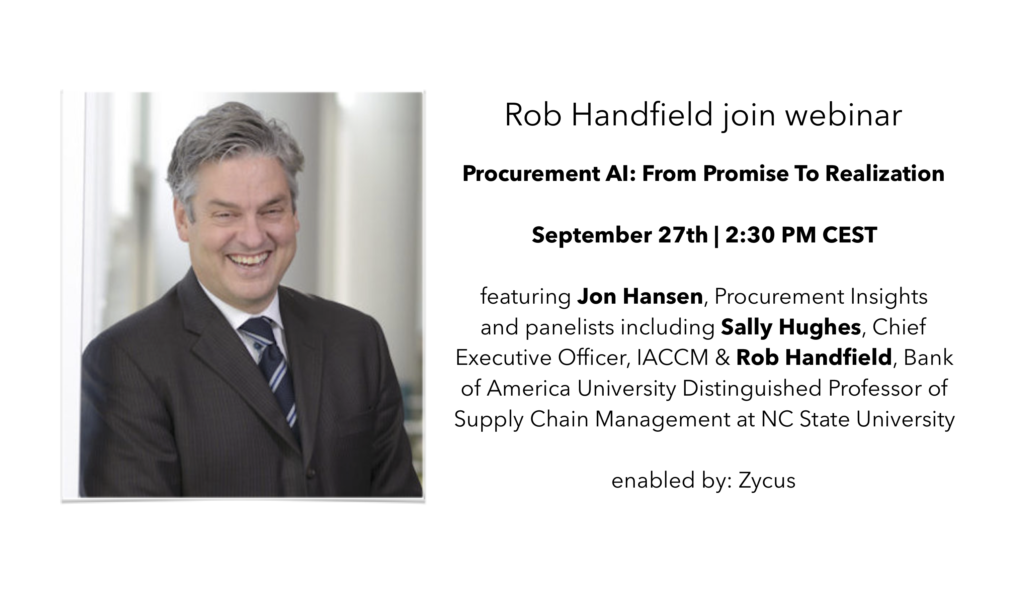 The world is shrinking in the sense that it has never been easier to bring together competences from across the globe online. EBG are happy to welcome Rob Handfield who is joining an upcoming webinar focusing on Artificial Intelligence within supply chain strategies and operations. Besides being a Bank of America University Distinguished Professor of Supply Chain Management at NC State University, he is also an IACCM Fellow.
About the webinar
Joining us for a webinar in September are Jon Hansen, Editor and lead writer for the Procurement Insights Blog who in turn are inviting panelists who will share their great expertise. Zycus – a global provider of complete Source-to-Pay suite of procurement performance solutions – are enabling us to do this session.
Date: September 27th 2018
Time: 2:30-3:30  CEST
Place: Your computer/tablet/phone
Language: English
Cost: Free of charge but requires registration
Organizer: EBG | Network & Zycus
Panelist line up
EBG | Network are happy to welcome Sally Hughes, Chief Executive Officer at IACCM and Rob Handfield, Bank of America University Distinguished Professor of Supply Chain Management at NC State University and an IACCM Fellow.
Key Takeaways
How can you gain an understanding of AI and its impact on procurement?

What new skill sets must procurement professionals acquire to succeed in an AI-driven world?

How can you establish the framework for making AI-based procurement a reality in your organization?
Learn more about the webinar here
About Rob Handfield
Robert Handfield, Ph.D., is the executive director of the SCRC and the Bank of America University Distinguished Professor of Supply Chain Management in NC State's Poole College of Management. Handfield is a consulting editor of the Journal of Operations Management and has written several books on supply chain management, including "Supply Market Intelligence, Supply Chain Re-Design."
He has co-authored textbooks for MBA and undergraduate programs include "Purchasing and Supply Chain Management" (with Robert Monczka) and "Operations and Supply Chain Management" (with Poole College of Management professor Cecil Bozarth). Indentified as one of a handful of professionals in the 2007 Pros to Know list complied by Supply and Demand Chain Executive journal, Handfield is regularly quoted in such periodicals as the Wall Street Journal, the San Francisco Chronicle and the Supply Chain Management Review.
Over the course of his career, Handfield has consulted with more than 25 Fortune 500 companies across a variety of industries. Such experience has helped inform his ongoing research on the performance of companies with "best in class" supply chain management processes versus those whose supply chain practices are mediocre, which shows that best-in-class companies experience greater stockholder value and enjoy higher savings. Handfield joined the college in 1999 and received his Ph.D. from the University of North Carolina-Chapel Hill in 1990.
Welcome!
EBG | Network, Zycus & Jon Hansen