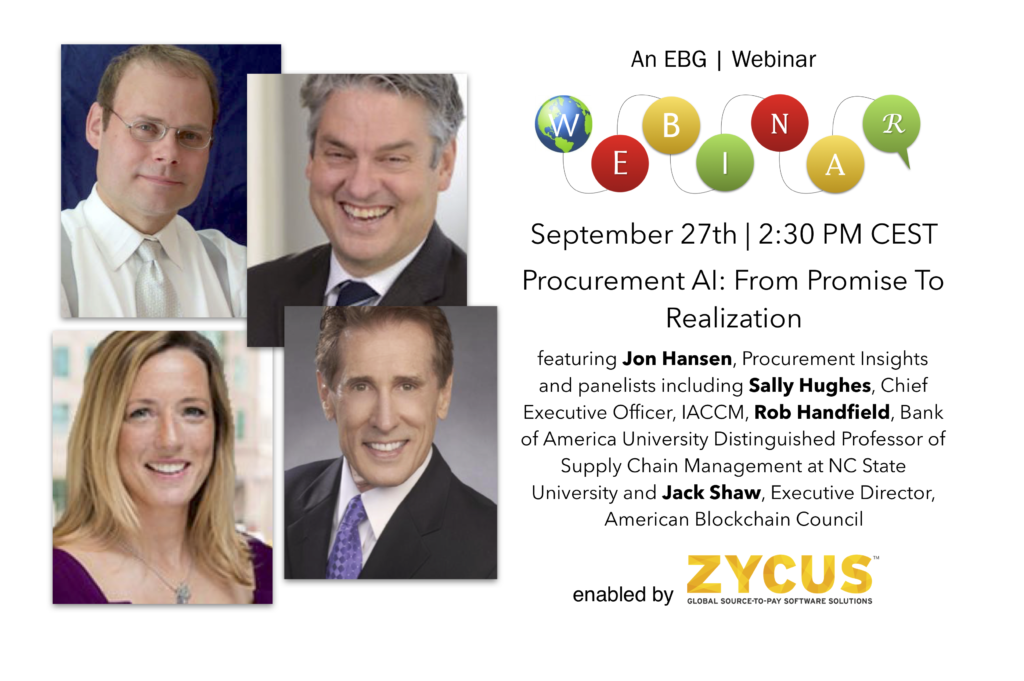 It is with great pleasure we present a truth seeking, forward and inward looking webinar session with great minds and years of experience coming together to reason about how to realize the promise Artificial Intelligence (AI) hold for procurement.
Joining us for this webinar are Jon Hansen, Editor and lead writer for the Procurement Insights Blog who in turn are inviting panelists who will share their great expertise. Zycus – a global provider of complete Source-to-Pay suite of procurement performance solutions – are enabling us to do this session.
Date: September 27th 2018
Time: 2:30-3:30  CEST
Place: Your computer/tablet/phone
Language: English
Cost: Free of charge but requires registration
Organizer: EBG | Network & Zycus
On April 10th 2018, 25 European countries signed a Declaration of cooperation on Artificial Intelligence. It builds further on the achievements and investments of the European research and business community in AI.
Given this announcement, one would reasonably expect that AI is progressively moving forward in all areas of the global enterprise including the procurement function. However, when it comes to an organization's supply chain, and despite a recent McKinsey report that cited the tremendous impact of digital reinvention regarding the growth of revenues and profits, only 2 percent of companies polled report that the supply chain is part of their "forward-looking digital strategies."
So where is the disconnect, and even more importantly, what needs to happen for digital reinvention and the materialization of the Artificial Intelligence promise to become real in the procurement world?
Join EBG | Network and Jon Hansen from Procurement Insights along with a guest panel of international experts as they draw a roadmap for achieving success in an AI procurement world.
Panelist line up
EBG | Network are happy to welcome Sally Hughes, Chief Executive Officer at IACCM,  Rob Handfield, Bank of America University Distinguished Professor of Supply Chain Management at NC State University and an IACCM Fellow and Jack Shaw, Executive Director, American Blockchain Council
Key Takeaways
How can you gain an understanding of AI and its impact on procurement?

What new skill sets must procurement professionals acquire to succeed in an AI-driven world?

How can you establish the framework for making AI-based procurement a reality in your organization?
All who register will receive the slides and recording, joining us online will give you the opportunity to compare live with peers. Your online and registration details will only be shared with the co-organizer. We promise to take care of your time spent with us.
Welcome!
EBG | Network, Zycus & Jon Hansen
About Zycus
Zycus is a leading global provider of complete Source-to-Pay suite of procurement performance solutions. Our comprehensive product portfolio includes applications for both the strategic and the operational aspects of procurement.
Zycus has been Recognized as a Leader in Gartner's Magic Quadrant for Strategic Sourcing Application Suites for four years in a row, making it the only solution provider to achieve this feat.
About Jon Hansen
As the Editor and lead writer for the Procurement Insights Blog, Jon Hansen has written nearly 3,000 articles and papers; as well as five books on subjects as diverse as supply chain practice, public sector policy, emerging business trends and social media.
In addition to being a much sought-after speaker and moderator internationally, Jon is also the host of the highly acclaimed PI Window on The World Show on Blog Talk Radio, which has aired more than 800 episodes since its initial broadcast in March 2009.
A two-time Ottawa Finalist for the Ernst & Young Entrepreneur of the Year Award, out of a group of 15,000, Blog Talk Radio named Jon Hansen as one of their top 300 hosts.
Don't miss the examination paper written by Jon Hansen called "Digital Transformation in Procurement" that can be found >>here
About Sally Hughes
Sally has been appointed as Chief Executive Officer for the IACCM, supporting the IACCM global team in the pursuit of both the recognition of and excellence in Commercial and Contract Management.
Sally is an experienced and accomplished commercial and contracts management professional, holding senior commercial positions at a range of corporate and multi-national organizations. After gaining an Honors degree in Law, Sally spent her time in house in the corporate sector, where she worked globally in the Telecom's and IT industries, before establishing her own legal and commercial consultancy in 2007. Sally is passionate about enabling business efficiency and growth through contracting and commercial excellence; she understands the need for robust business operations to drive these efficiencies, together with the requirement for effective communication and collaboration at all times.
Whether in contract development, negotiation, training or general communications, Sally has built a reputation for service excellence and responsiveness. Her focus is on the creation of positive and successful business relationships, constantly striving to ensure that businesses realize their true potential and value.
About IACCM
The International Association for Contract & Commercial Management enables both public and private sector organizations and professionals to achieve world-class standards in their contracting and relationship management process and skills. With over 43,000 members across 174 countries and 18290 corporations, IACCM is leading the way in responding to the demands of global networked markets.