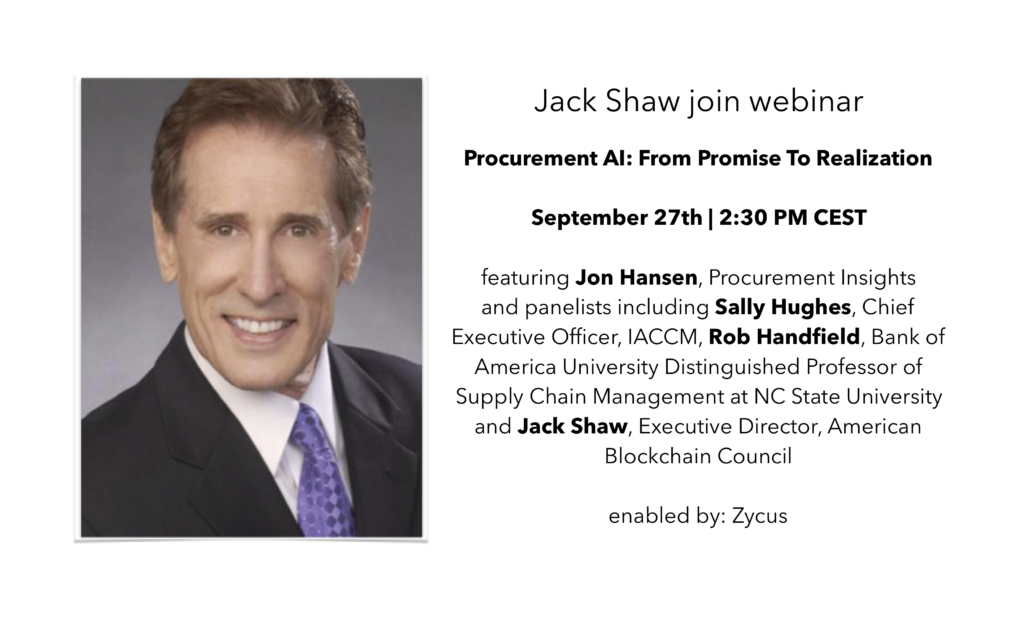 When great turns into greater – EBG are happy to welcome Jack Shaw, Executive Director, American Blockchain Council to the upcoming EBG | Webinar: Procurement AI: From Promise To Realization.
There is a lot of hype surrounding ways to digitize any type operations. EU countries are even coming together to collaborate on the growth of Artificial Intelligence.
At the same time it seems procurement and supply chain is falling behind organizational strategies to digitalize. A McKinsey & Company report even state only 2% of surveyed companies include the supply chain in their "forward-looking digital strategies".
So – where is the disconnect?
EBG | Network are looking forward to learning more from great competences coming together September 27th as we invite You to join a webinar featuring Jon Hansen, Editor and lead writer for the Procurement Insights Blog. He in turn have invited panelists who will share their great expertise. Zycus – a global provider of complete Source-to-Pay suite of procurement performance solutions – are enabling us to do this session.
The third panelist to be presented is Jack Shaw.
Date: September 27th 2018
Time: 2:30-3:30  CEST
Place: Your computer/tablet/phone
Language: English
Cost: Free of charge but require registration
Organizer: EBG | Network & Zycus
About Jack Shaw
Jack Shaw is a Pragmatic Visionary, a Digital Strategist, an experienced Technology Executive, a Consulting Futurist, and a world renowned Keynote Speaker. He was voted one of the World's Top 5 Technology Futurists by over 12,000 meetings planners, executives and conference attendees.
Jack Shaw has been a Technology Futurist for over 30 years – helping others to understand the strategic implications of emerging technologies. He's a Marketing Strategist, Industry Thought Leader, and Author of three critically acclaimed books on business and technology.
He has advised such leading Technology Providers as Oracle, SAP, IBM, CA Technologies and many more. He has also provided expert guidance and best practices to such Fortune 500 Companies as GE and Coca Cola, among others, as well as to hundreds of small to mid-sized businesses.
A charismatic speaker, he's delivered more than 1000 keynote speeches and executive presentations in more than 20 countries. Jack graduated from Yale with a degree in Business Administration and has an MBA from Kellogg in Finance and Marketing.
He is widely recognized for his expertise in such breakthrough business technologies as:
Artificial Intelligence
Blockchain
Internet of Things
3D Printing
As well as such established technologies as:
Ecommerce/Omnicommerce
Big Data
Predictive Analytics
Cloud Computing
Mobile Commerce
Supply Chain Management
Welcome to join us!