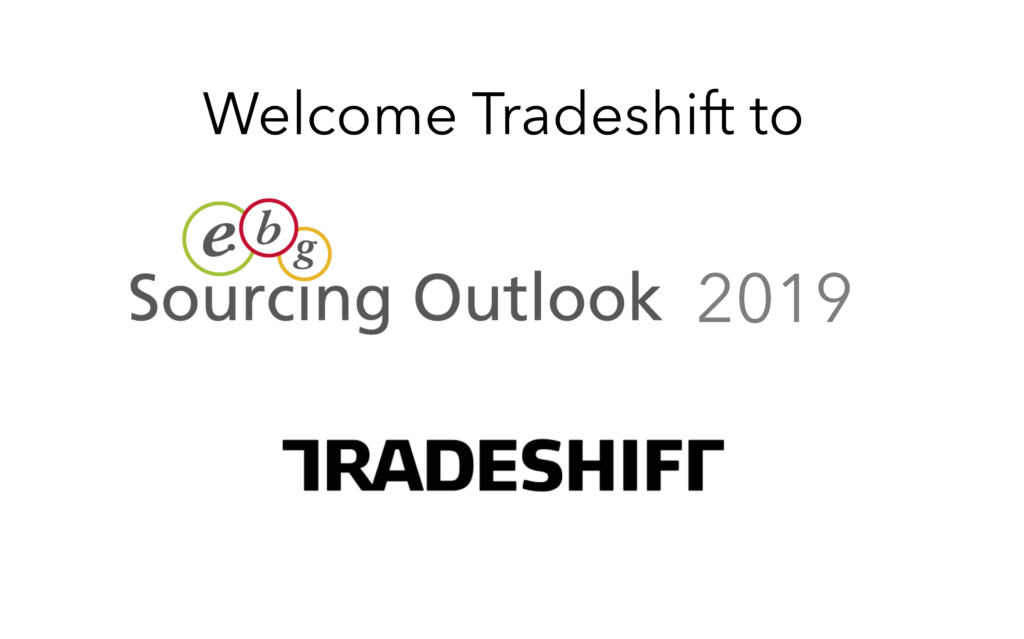 EBG | Network give a warm welcome to Tradeshift joining Sourcing Outlook 2019 as an Expert Organization. You who join us on October 10th in Stockholm will be able to sit down during their round table discussions – aka Theme Discussions – and draw from both their and your peers experiences.
Want to prepare?
Take a look at the recent webinar EBG hosted where Roy Anderson, CPO at Tradeshift give valuable insights. Both from a company service perspective and most of all from a CPO perspective. How do You develop from tactical tasks to more strategic tasks for one? Is it important to do so and what happens if procurement don't take the next evolution step?
About Tradeshift
Founded in 2010, Tradeshift is the world's largest business commerce platform that connects buyers and sellers. Tradeshift connects over 1.5 million companies across 190 countries, processes over half a trillion USD in transaction value yearly, and has a marketplace containing 28 million SKUs. It offers solutions for procure to pay, supplier engagement and financial services, and enables companies and partners to build custom or commercial apps on its business commerce platform.

Tradeshift is headquartered in San Francisco, with offices in Copenhagen, New York, London, Paris, Suzhou, Chongqing, Tokyo, Munich, Frankfurt, Sydney, Bucharest, Oslo, and Stockholm. tradeshift.com
About Sourcing Outlook
EBG really need past participants to share why joining us is worth the time and investment. There are not few conferences in Europe to choose from – why pick Sourcing Outlook?
EBG have created networking meetings focusing on round table discussions since 2010 and have a genuine understanding of what informal yet to the point discussions can offer
EBG create each conference based on what each moderator want to discuss and share making each conference different yet up to date to market changes right here and now
EBG tailor make each conference depending on the number of participants, no fairs – the idea is for as many as is possible to be able to connect
What do past attendees think?
And don't think EBG stay content – we always seek to improve!
I liked the hands-on attitude of the day with a Scandinavian scope. In many similar events the scope is more central European. 

Paulig Ltd
Very good presentations and discussion, excellent event to share experiences and to benchmark own path. 

Neste Corporation
Great content and networking

Volvo Cars
Well thougth of setup.  In other similar networking activities the sponsors are predominant which decreases the overall experience. At SO this is well balanced.

Sweco
A great network with a lot of interesting speakers

Epiroc Rock Drills