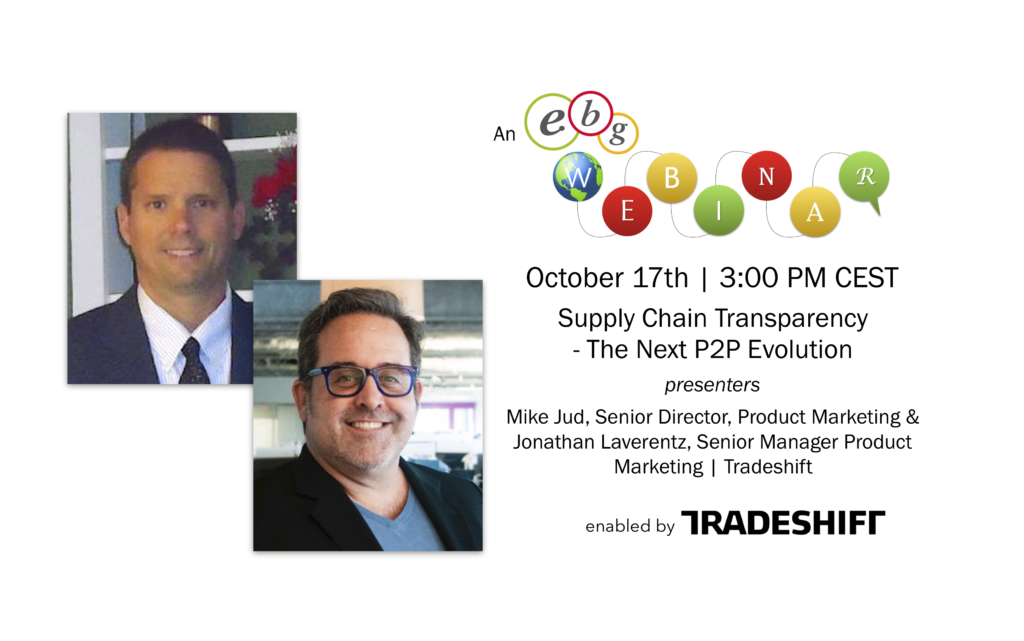 Welcome to a webinar exploring what an end-to-end transparent supply chain may mean to you and your business growth. Today there are endless discussions about digitizing all aspects of doing business – but what does it really encompass? During this webinar we aim to find out!
Date: October 17th 2019
Time: 3:00-3:45 PM CEST
Place: Your computer/tablet/phone
Language: English
Cost: Free of charge but requires registration
Organizer: EBG | Network & Tradeshift
Welcome to register here
The P2P world is undergoing a digital transformation. For many organizations transitioning from traditional to digital, supply chain transparency and sustainability remain their greatest challenge. In this Tradeshift webinar, P2P experts Mike Jud & Jonathan Laverentz discuss the impact of supply chain transparency and the steps you need to take to achieve  transformational change so that your procurement teams can become a strategic part of your organization's future.
In this webinar we'll discuss:
How supply chain transparency benefits your supplier and the consumer
What transformational change with a sustainable supply chain looks like
How to help your organization embrace P2P transparency
Practical steps you can take to take to achieve positive change
We will involve You who join us live and all who register will receive the slides and recording. The webinar is free of charge to join but require registration.
Mike Jud, Senior Director, Product Marketing, Tradeshift
Mike has a long history with Procurement and Financial solutions and working with customers on best practices. Prior to Tradeshift, Mike was the Product Director at Procurement startup, Vroozi, where he was responsible for the roadmap for mobile Procurement, Marketplace, and AP Automation solutions. Prior to Vroozi, Mike was a Procurement Solution Manager at SAP for 15 years, where he engaged companies, big and small, to shape SAP's Procurement portfolio and roadmap. Mike is building on that experience to deliver solutions that enable process improvement, organizational alignment, innovation, and continuous growth.
Jonathan Laverentz, Senior Manager Product Marketing, Tradeshift
Jonathan is responsible for the global commercialization, messaging, positioning, GTM strategy, and evangelism of the industry-first curated B2B marketplace – Tradeshift Buy – and the end-to-end procure to pay solution that enables one of the newest innovations in the analyst-recognized leading financial PaaS, Tradeshift. Prior to Tradeshift, Jonathan worked at ChannelAdvisor, Channel IQ and Bosch Power Tools North America.
About Tradeshift
Founded in 2010, Tradeshift is the world's largest business commerce platform that connects buyers and sellers. Tradeshift connects over 1.5 million companies across 190 countries, processes over half a trillion USD in transaction value yearly, and has a marketplace containing 28 million SKUs. It offers solutions for procure to pay, supplier engagement and financial services, and enables companies and partners to build custom or commercial apps on its business commerce platform.
Tradeshift is headquartered in San Francisco, with offices in Copenhagen, New York, London, Paris, Suzhou, Chongqing, Tokyo, Munich, Frankfurt, Sydney, Bucharest, Oslo, and Stockholm. tradeshift.com
More insights
Take a look at the on demand session EBG hosted where Roy Andersson, CPO at Tradeshift shared his inspirational view on how to question your status quo.