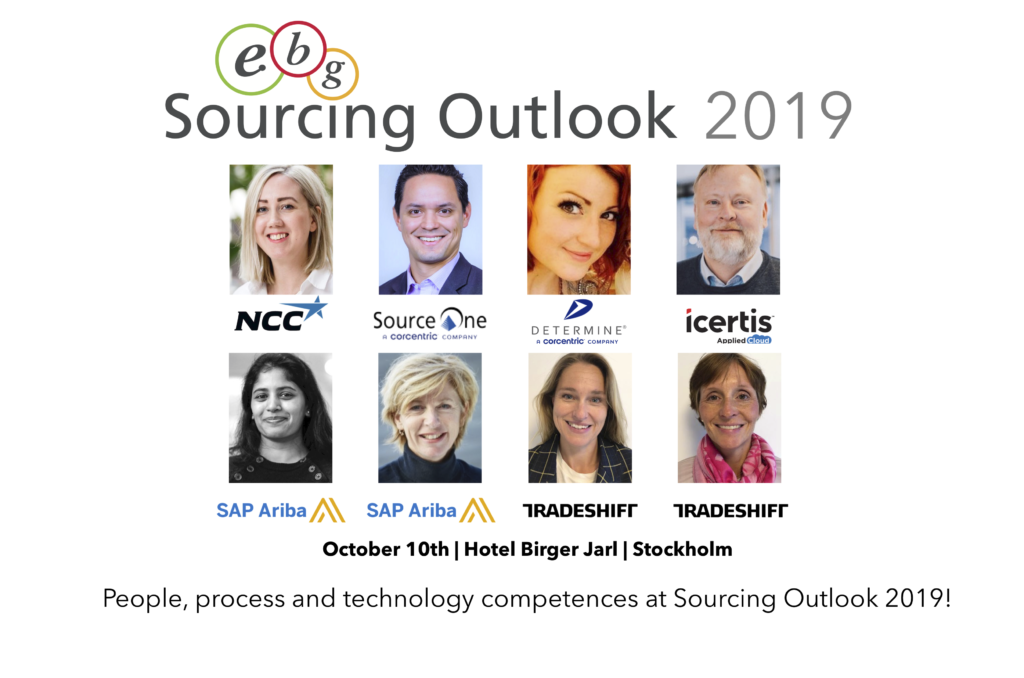 What if you could just implement system support and that was it. All problems solved. All data harvested, interpreted and used at its best. What if.
Having gathered competences within sourcing, procurement and finance for 10 years – EBG | Network know it is not so easy. The terms people – process – technology have been used a long time – but how often are they all really considering when embarking on new ways of working? New ways of working enabled by system support.
At Sourcing Outlook 2019 several highly skilled professionals are gathering to share experiences making new ways of working come true. Including that system or tool.
Below a highlight of some of them, to see the full program go to sourcingoutlook.com. Ensure you register today since seats are limited all in all and especially at each round table session.
Change management in a de-centralized organization
Meet Emma Papakosta, Director & Head of Purchasing systems at NCC. She invite You to join her benchmark sessions focusing on challenges aligning central strategies with de-centralized behavior.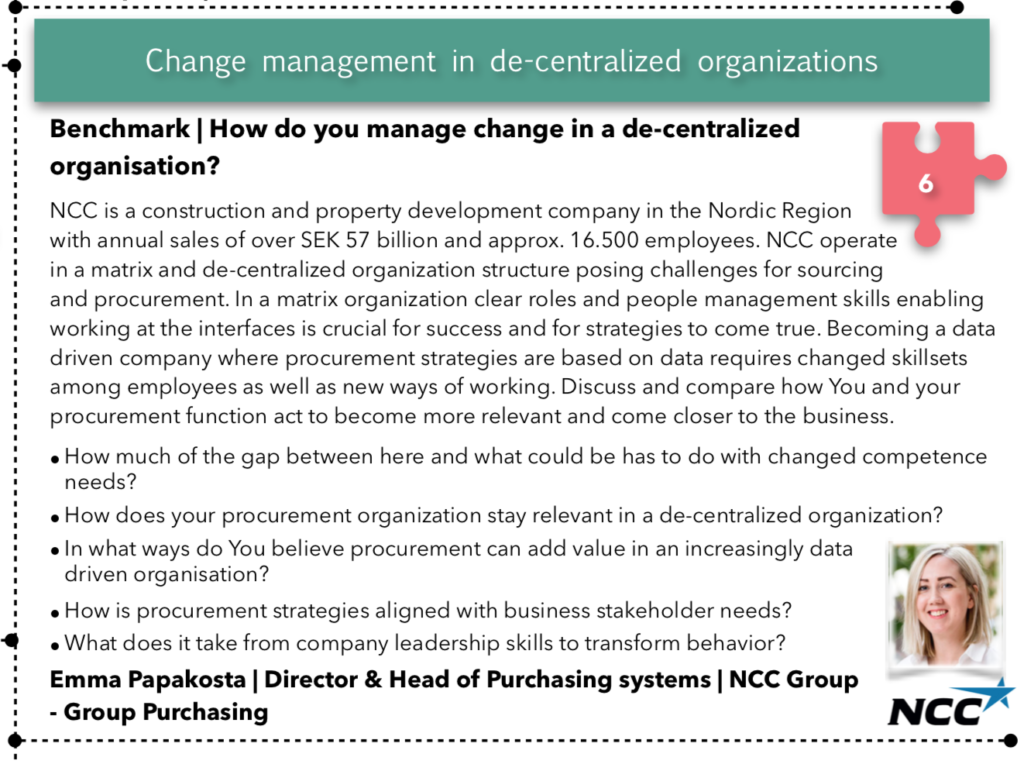 Building a procurement transformation network
"The promise of bleeding edge technology combined with increasing market pressures is leading Procurement organizations of all shapes and sizes to consider Procurement Transformation." A sentence in the Theme Discussion description by Sophie Pope, Sales Director UK & Nordics at Determine a Corcentric company and Diego De la Garza, Director at Source One, a Corcentric company. You who join Sourcing Outlook can choose any of their two sessions and learn from years of experiences and numerous organization development projects.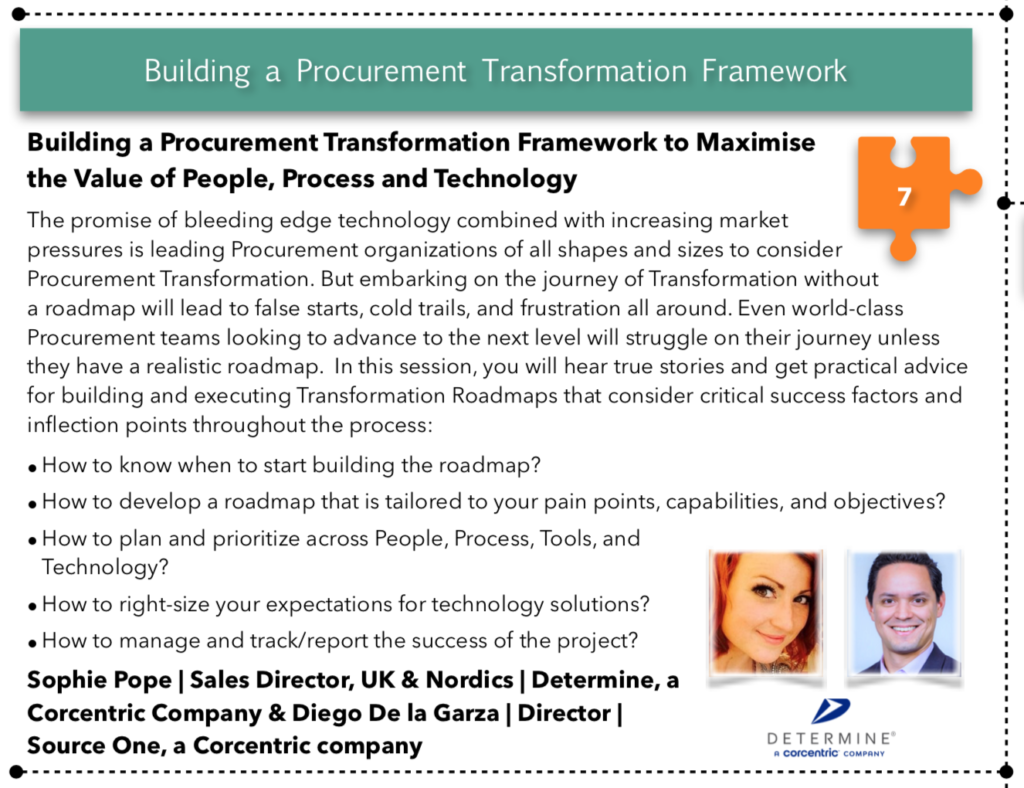 Extracting value during transformation
Are you having discussions about how to become more agile and how to ad more value? If you don't EBG believe you will or will have to. Still easier said than done and therefore it is great to be able to share know how with Geetha Kumar, Director Value Advisory, Nordics and Annette McKenzie, Director Business Development, EMEA North at SAP Ariba. What should you expect when you decide to change what was into what can be?
Contract Management Development
How much time is spent negotiating and managing contracts in your organization? To what extent can you measure and make sure stakeholders then use them as intended? A huge challenge in many organizations and a core aspect when wanting to increase spend under management! Take the chance to discuss challenges and opportunities within contract management with Per Walander, Director Enterprise Sales – Nordic at Icertis. And what impact can and will AI (Atificial Intelligence) have ahead when transforming sourcing and procurement?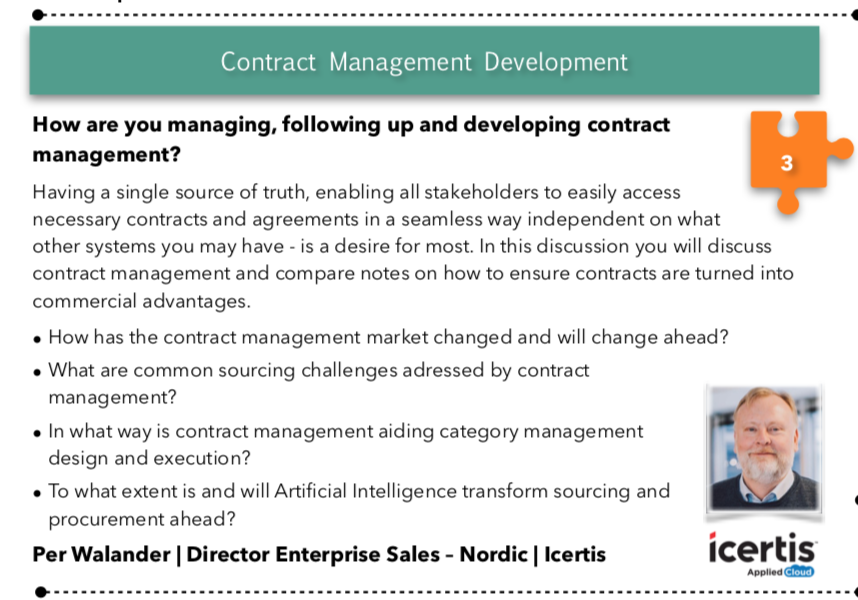 Processes and tools implementation success factors
Let's break down concrete success factors you may want to consider when implementing new sourcing and procurement processes and tools. Sara Bråtegren, Director of Professional Services Nordics and Carin Ivarsson, Responsible for Tradeshift Alliances at Tradeshift. They relate to years of experiences making sure change management is a core part when deciding to do organization wide behavior changes.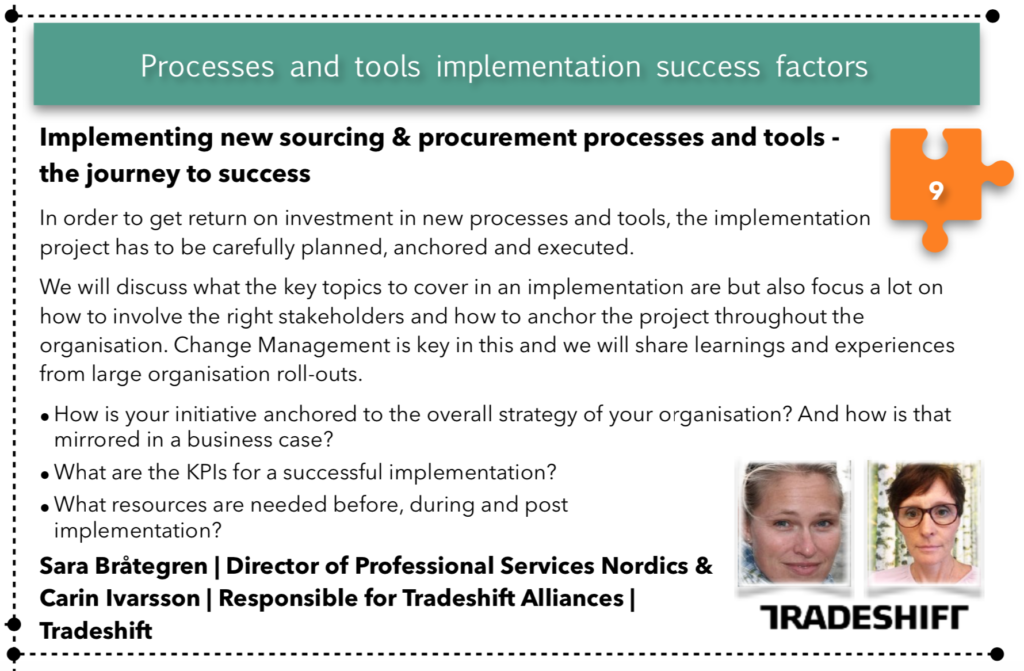 Topic overview at Sourcing Outlook 2019
The idea with Sourcing Outlook is to consider several of the aspects You as a sourcing and procurement professional may need to consider when you realize you have a challenge (or two) or when you just know you need to advance your business development.
Most topics are linked to each other one way or another. Strengthening sustainable companies, using data to increase efficiency and effect, ensuring strategies come true and a quite unique focus on change management.
Learn more visiting the below posts.