A few years into the hype: Where do RPA, ML and AI stand today? Not an easy question to answer in a defined way during 45 minutes. But we try. Here you find the recording of an online session EBG held together with Basware and guest speakers Forrester. Fun fact that almost to the date – four years ago EBG hosted a webinar enabled by Basware where we spoke about RPA and what areas of interest there might be. Linking to that session below for those interested.
Who's speaking
Presenters are guest-speaker Dr. Bernhard Schaffrik, Principal Analyst Serving CIO Professionals, Forrester and co-host Magnus Bergfors, Global Business Director, Basware.
Topic overview
We went through the below topics:
A few years into the hype: Where do RPA, ML and AI stand today?
Application areas in P2P and the Finance department today: Proven use cases
Automation challenges: Limitations of RPA, ML and AI and the pitfalls you need to avoid
Best practice examples: Recommendations for increasing automation and the importance of clean data
On demand recording
Below you can view and re-view the recorded session. Note that in order to get the slides (always appreciated to support what is being heard) – you need to register to a live session. Click the image or go >>here.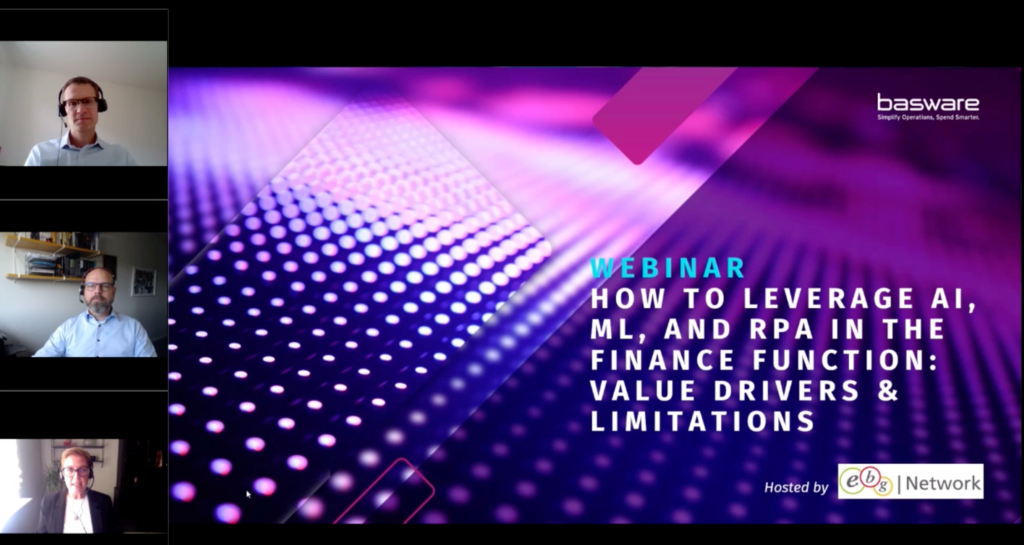 General overview
In short this is an area exploding with features and capabilities. System providers are incorporating supporting technologies "under the hood" yet the general usage is still fairly low. Data quality and organization understanding and knowledge are still barriers. To remove repetitive tasks is the main reason to automate.
Poll results
Every now and then we involve those joining our webinars in order for the group to benchmark with each other. Usually one question make three more pop up. A way to ask a question highlight the need to ask it all over again with a slightly different angle.
Primary goal applying AI, ML or RPA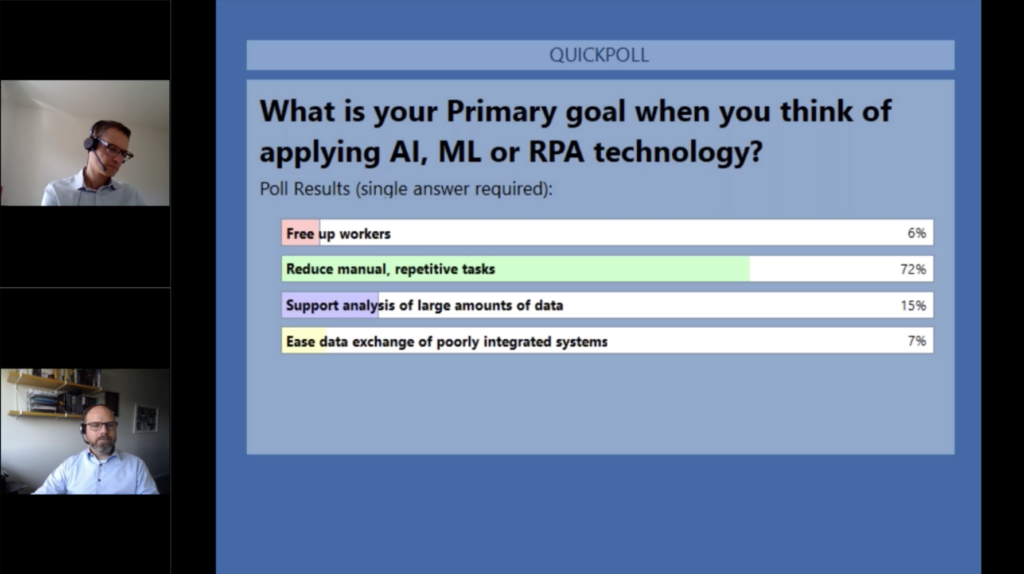 We quickly realized reducing manual tasks will free up workers and since the question was not about letting people go – they are well connected. Given that finance and procurement professionals joining this session usually have too much to do – 72% stating reducing manual and repetitive tasks is understandable.
Where do you start
What I am seeing clients of mine doing is they are harvesting the low hanging fruit. The ones where data quality isn't such an issue and if you're an automation beginner, then you will have these low hanging fruits and software vendors will help you to identify these.

Bernhard Schaffrik
What does that mean? Ask the vendors it seems. Ask each other.
Main challenges using new technology
The second poll was about challenges. EBG was founded because of the understanding that most business transformation come down to people changing behavior. Since businesses are increasingly complex, change management is even more important.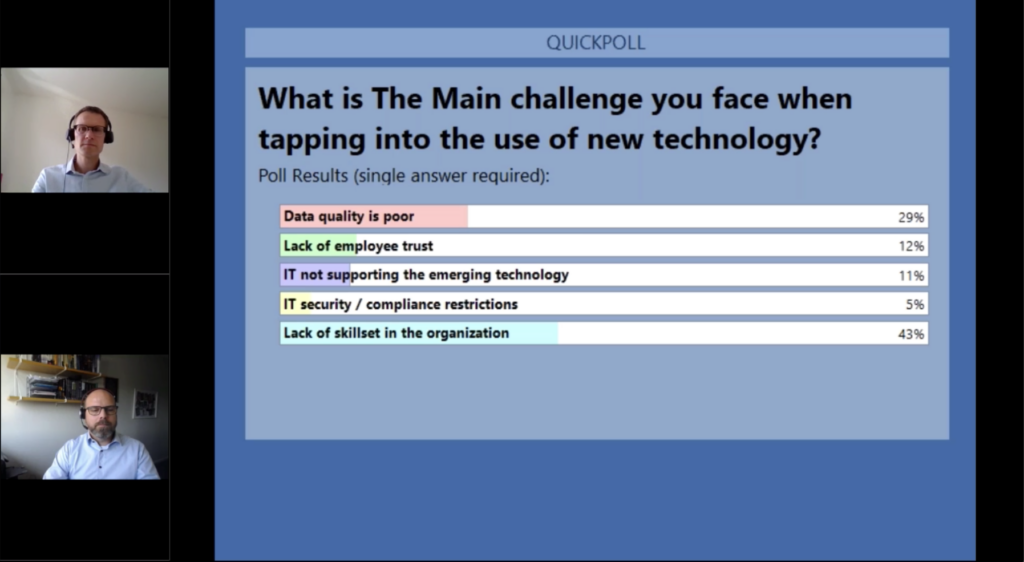 Lack of skillset and poor data quality. Forrester interestingly pointed out the challenges in having Center of Excellence having the main role in automation projects (about 43 minutes into the session). It is the mundane and repetitive tasks that should be automated according to the group. Still there is a knowledge gap and that data supposed to be lifted off peoples shoulders has bad quality – what do you do? This is for sure an area to discuss further!
About Dr. Bernhard Schaffrik
Dr. Bernhard Schaffrik, Principal Analyst, FORRESTER with a PhD in economics and social sciences
Bernhard Schaffrik's research supports CIOs and technology leaders with their broader transformation challenges. His thought leadership provides guidance on how to manage technology-driven business models and how to drive sustainable technology innovation. Bernhard Schaffrik is a hands-on expert in emerging technologies such as robotic process automation (RPA), artificial intelligence (AI), the internet of things (IoT), and cloud computing. Leveraging his business process and enterprise architecture expertise, Bernhard Schaffrik's research takes a holistic look at business and operations automation and serves clients in these areas of responsibility.
Previous Work Experience
Bernhard Schaffrik has over 20 years of experience in technology management as an advisor, strategist, architect, and manager. Before joining Forrester, Bernhard Schaffrik held various tech management positions at Merck in Darmstadt, Germany. He built and ran the enterprise architecture management discipline, acted as chief architect to the CIO, and drove the transformation of the IT organization to a customer-obsessed, business-performance-enabling organization. Bernhard Schaffrik also led the digital transformation of Merck's Performance Materials business sector and managed the Technology Innovation Group of Merck's shared services function. Prior to joining Merck, Bernhard Schaffrik worked in the consulting industry with a strong focus on business process management, enterprise architecture management, organizational transformation, and change management.
Education
Bernhard Schaffrik holds a PhD in economics and social sciences from the Helmut-Schmidt University in Hamburg and a diploma in business administration from the Passau University.
About Forrester
Forrester helps organizations grow through customer obsession. That means empowering you to put the customer at the center of everything you do: your leadership, strategy, and operations. Becoming a customer-obsessed organization requires change — it requires being bold. We give business and technology leaders the confidence to put bold into action, shaping and guiding how to navigate today's unprecedented change in order to succeed.

Who we are forrester.com
About Magnus Bergfors
Magnus Bergfors, Global Business Director, Basware – Master of Science, Industrial Management and Engineering
Magnus has been a prominent technology analyst for most of his career, Magnus has deep expertise in strategic sourcing, procure-to-pay and other procurement software categories. He has a keen eye for identifying global opportunities and developing market strategies given his extensive knowledge of the landscape. Plus, his technical acumen is instrumental in crafting sales and marketing messaging and positioning.
Prior to Basware, he was an analyst at Spend Matters, a global content community and hub for procurement, finance, treasury, and supply chain professionals, as well as Gartner, a leading research and advisory company. He started out in the early 2000s in direct materials procurement at AstraZeneca and worked in various procurement and strategic sourcing roles at Scandinavian Airlines, IBX, Atlas Copco Tools, Effective Sourcing AB and SAAB.
About Basware
Basware offers the largest open business network in the world and is the global leader in providing networked source-to-pay solutions, e-invoicing and innovative financing services. Our technology empowers organizations with 100% spend visibility by enabling the capture of all financial data across procurement, finance, accounts payable and accounts receivable functions. Basware is a global company doing business in more than 100 countries and is traded on the Helsinki exchange (BAS1V: HE). Find out more at basware.com.
RPA experiences in 2017
Curious to look back and listen to what we said about RPA in 2017? Take a look below!