For what reasons are you digitizing and digitalizing – what is you digitization journey like? Reducing manual labor, minimizing paper, increasing information quality, speeding up decision making? During a recent webinar we got to learn from the Laerdal transformation journey. Joanne Emslie Bornø, Category manager at Laerdal Medical gave us a step by step run through over their experiences. Now you can view it On Demand.
Laerdal is not a big company in terms of employees with its 1600 people. But they operate in 25 countries, have an annual sales of 450 mil USD and – most important of all – they have a mission to help save lives.
Having been dependent of their ERP for a lot of supply chain and procurement data – Laerdal decided to implement the configural technical solution Ivalua offer. Product development meaning a lot of documentation they felt another way of working was needed.
On Demand Laerdal's Procurement digitization journey
Going >>here or clicking the image below enable you to view the On Demand session.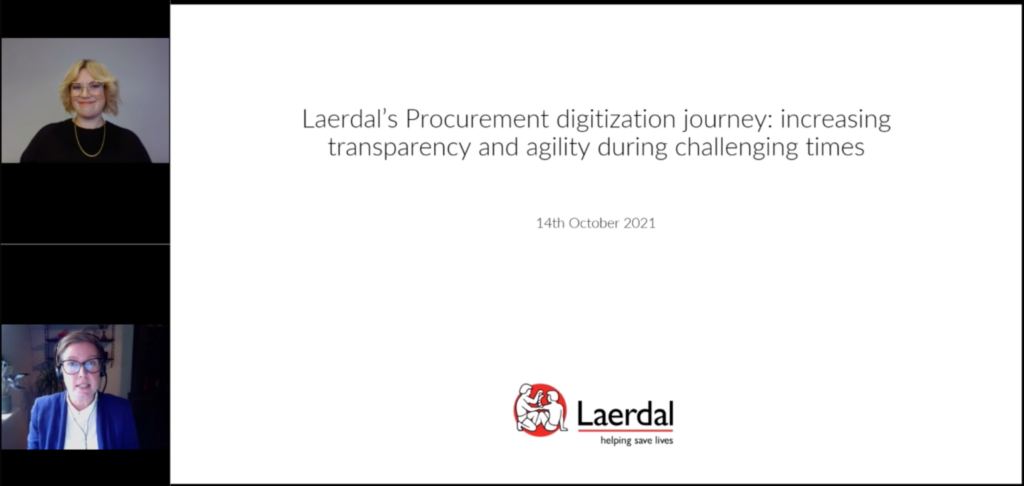 During this session you can follow the journey from yesterday when poor data/accuracy was an issue, to today with clean data ready to be analyzed. Further how they plan to optimize the value chain. Or as Joanne stated it "We were data rich and information poor".
An interesting aspect is the improved visibility on indirect procurement their work has had.
About Laerdal Medical
Laerdal is a group of companies that develops healthcare-related solutions and programs focused on a common mission of helping save lives.
For more than 60 years, Laerdal has been a world leader in healthcare education, training, and therapy solutions. Laerdal develops products, programs, and digital solutions designed to increase survival and improve patient outcomes. By implementing evidence-based solutions within the areas of resuscitation, patient safety, and global health, Laerdal help build the competence of healthcare providers, educators, and lay rescuers. Together with their partners, Laerdal believe they can help save one million more lives, every year.
1940 company established
25 countries
1600 employees
About Ivalua
Ivalua is the Procurement empowerment platform. Recognized as a Leader by Gartner and Forrester, Ivalua's Source-to-Pay suite is leveraged by hundreds of companies to manage all spend. The platform's combination of ease-of-use, depth, breadth and incredible flexibility ensures high employee and supplier adoption, rapid time to value and the ability to meet unique or evolving requirements, evidenced by the industry's leading 98% retention rate.
Ivalua has a strong customer base in the Nordics with many using Ivalua for standard Procurement processes, but we also have Nordic customers that use Ivalua for unique challenges such as ESG reporting on Suppliers, managing Outsourcing regulations within the Procurement process, Product Lifecycle Management and BOM sourcing, Digital Twin procurement and more.
We are always interested in an open and honest discussion to see if Ivalua might be right for you.
Meet with and discuss with peers
Are you too considering how to best optimize and digitize direct and/or indirect spend? Considering how unique what you do and how you do it is and what that might mean to transforming procurement?
Join Sourcing Outlook 2021 on November 25th for EBGs final Online Round Table Summit. Since 2010, EBG have brought together experts and peers to draw from each others experiences. You choose sessions that interest You (about 38 to choose from during the day!).
EBG connect you prior, during and – if you want to – after.
Join the sessions hosted by Ivalua! The Program can be found >>HERE. As soon as you >>register you can start choosing what sessions to join.