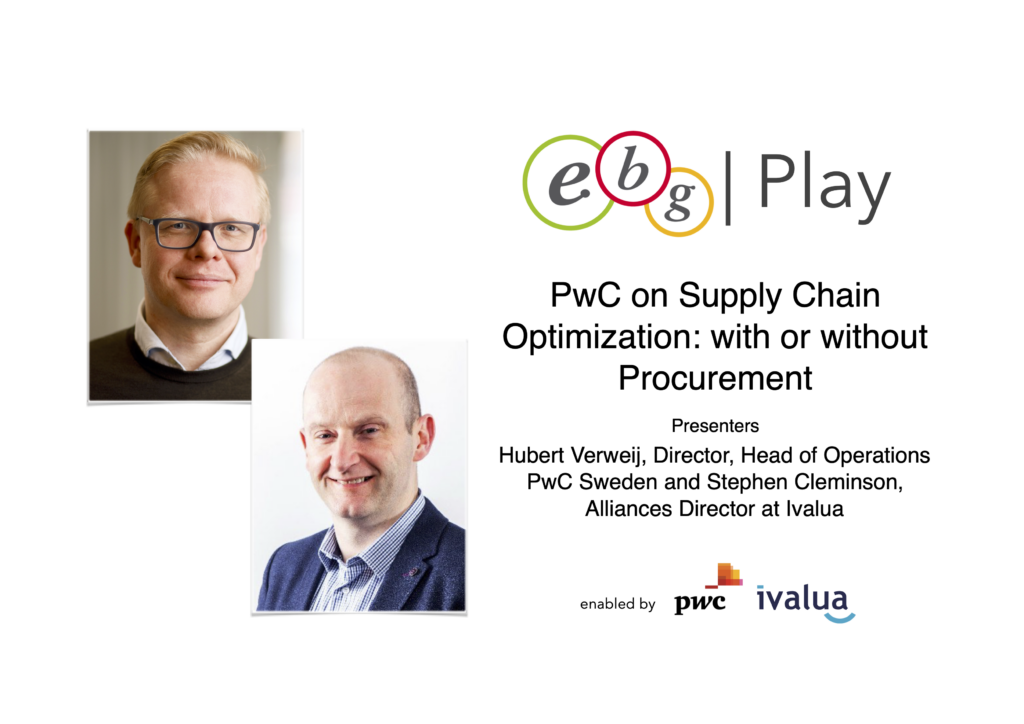 Just as we though the VUCA world might ease up..we realize it is not just yet. The question arise – will it ever? VUCA short for volatility, uncertainty, complexity, and ambiguity summon up what many businesses face on a daily basis. Working with supply chain or procurement – what does this mean to you?
You know you have to create transparency across a huge number of networked and interlinked material and services flows. That you are expected to know about disruptions before they take place. That you should digitize rapidly. That your role in creating a sustainable future is key.
Two perspectives – vision and insight
Welcome to listen in to a session where Hubert Verweij, Director, Head of Operations PwC Sweden and Stephen Cleminson, Alliances Director at Ivalua join forces. Two perspective that together become one – the overall vision and umbrella view leaders need to take today. The vision being paired with the detailed idea of how visibility and control can be managed through technology.
We often talk about digitizing and digitalization, more unclear what we really mean by that which in turn make it challenging for businesses to take controlled next steps.
On Demand webinar session
Below or >>here you can view and re-view this session. Prepare to take notes and reflect upon what you can do ahead.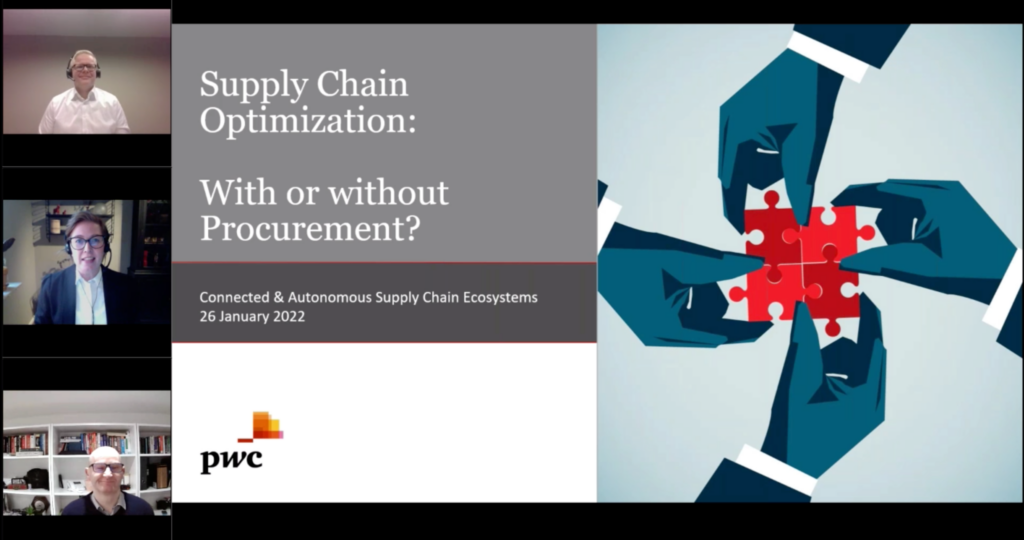 What capabilities have technology enabled the most
As always when asking poll questions you almost always have more questions than answers after. Meaning for instance that the below results may disappoint, we all know how important supplier collaboration and innovation is! But – the question merely point to how technology have been able to enable this development. It does not state how important it is to a company or how much work is spent on it.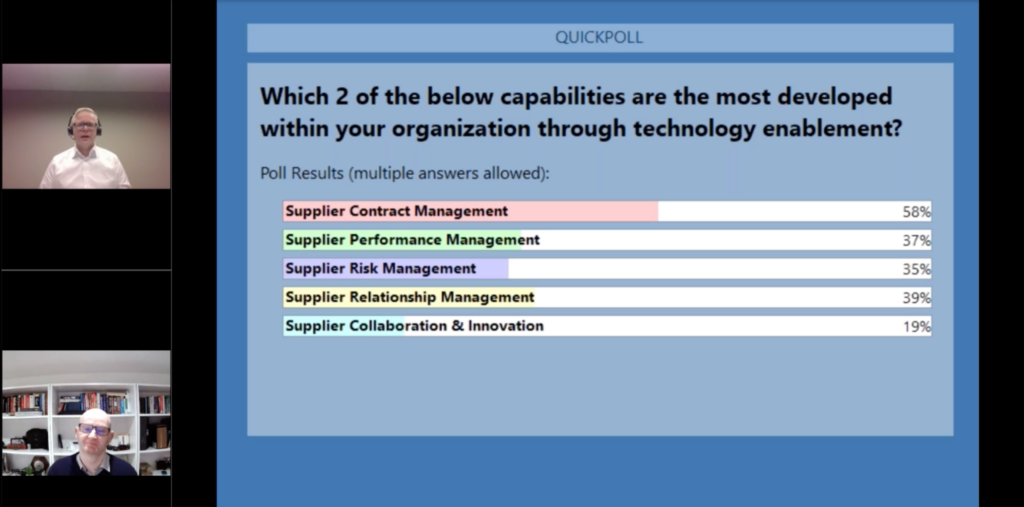 From and end to end perspective it would also have been interesting to ask given the above result – How much of your managed contracts are measured outcome based? How much of your managed contracts are measured upon contracted savings?
What do you think the result may have been?
Continue the discussion
As you look through the session, at the very end, you find contact details to Hubert and Stpehen – feel free to connect!
About PwC
PwC Sweden is the market leader within auditing and advisory services with 2,800 employees across Sweden – we are where you are! We have approximately 33,000 customers comprised of global enterprises, large companies and organisations, SME's and the public sektor.
With offices in 156 countries and more than 295,000 people, PwC are among the leading professional services networks in the world. PwC help organisations and individuals create the value they are looking for, by delivering quality in Assurance, Tax and Advisory services. Some facts about PwC:
In FY21, PwC firms provided services to 84% of the Global Fortune 500 companies
90,273 people joined PwC firms around the world in FY21
For the year ending 30 June 2021, PwC's gross revenues were US$45 billion.
About Ivalua
Ivalua is the Procurement empowerment platform. Recognized as a Leader by Gartner and Forrester, Ivalua's Source-to-Pay suite is leveraged by hundreds of companies to manage all spend. The platform's combination of ease-of-use, depth, breadth and incredible flexibility ensures high employee and supplier adoption, rapid time to value and the ability to meet unique or evolving requirements, evidenced by the industry's leading 98% retention rate.
Ivalua has a strong customer base in the Nordics with many using Ivalua for standard Procurement processes, but we also have Nordic customers that use Ivalua for unique challenges such as ESG reporting on Suppliers, managing Outsourcing regulations within the Procurement process, Product Lifecycle Management and BOM sourcing, Digital Twin procurement and more.
We are always interested in an open and honest discussion to see if Ivalua might be right for you.
The Laerdal story
Want more hands on experiences using technology to reach set targets? Take a look at the below On Demand session