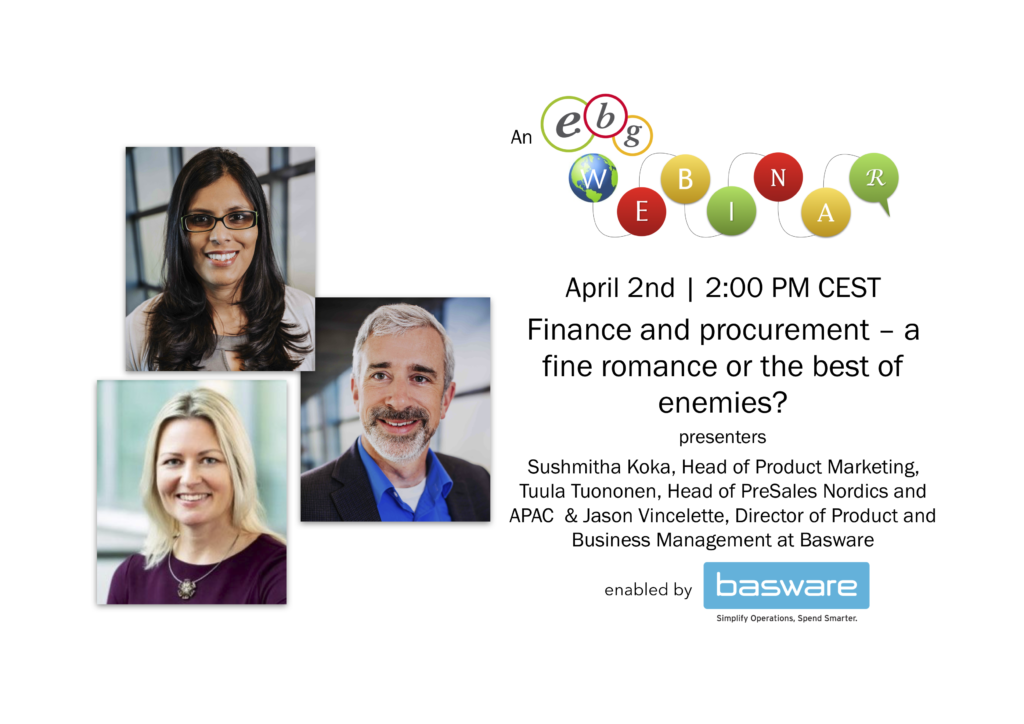 How to Leverage Automation to Build a Bridge between Both
Traditionally, in most organizations, the relationship between finance and procurement has been ad-hoc, and not strategic. Even though the two functions are closely linked together and have mutual goals of savings, control and visibility, oftentimes there is tension between the two departments due to historical differences in their duties and solutions that functioned independently. But all that is changing thanks to automation.
Date: April 2nd 2020
Time: 2:00-3:00 PM CEST
Place: Your computer/tablet/phone
Language: English
Cost: Free of charge but requires registration
Organizer: EBG | Network & Basware
In this webinar, Tuula Tuonen, Sushmitha Koka and Jason Vincelette at Basware will discuss the benefits and potential conflicts of working with an end-to end purchase to pay (P2P) process, and how your organization can take steps towards maximizing process efficiency. We will also look at P2P automation and how it can be the factor that aligns procurement and finance departments together.
The webinar will also cover:
Challenges of having a disjointed process. There are typically tree areas where disjoint processes are common; spend control, compliance and supplier relationships
Trend toward cross-functional collaboration by use of automation and digitalization
Steps to bringing finance and procurement closer together by means of platforms, processes and people.
As Customer Insights Director at Basware, Tuula Tuononen works closely with Basware's customers gathering input and ideas, including market intelligence and emerging trends to develop Basware's strategy and product portfolio. She has also worked as a global business advisor at Basware, consulting Basware's customers on Source-to-Pay best practices and processes. Before joining Basware, she used to be a procurement practitioner in different industries.
Sushmitha Koka brings over 15 years of experience in the Procure-to-Pay (P2P) space from Her main areas of expertise include: electronic procurement, electronic invoicing and payments, document and data management.
Jason Vincelette also brings over 15 years experience in global enterprise software product management. He has lead development, product management and marketing initiatives in procurement and accounts payable in both the private and public sectors.
Basware Leader Wins Supply & Demand Chain Executive Pros to Know Award
Jason Vincelette, Director of Product & Business Management at Basware (Nasdaq: BAS1V), has been recognized as a 2020 Pro to Know in the supply chain industry by Supply & Demand Chain Executive. The Pros to Know Awards recognize supply chain executives, and manufacturing and non-manufacturing enterprises, that are leading initiatives to help prepare their companies' supply chains for the significant challenges of today's business climate. Supply & Demand Chain Executive received more than 500 entries for the 2020 Pros to Know Awards. Learn more via Supply & Demand Chain Executive's website at https://www.sdcexec.com/
The webinar is free of charge to join but require registration. All who register will receive the slides and recording.
About Basware
Basware offers the largest open business network in the world and is the global leader in providing networked source-to-pay solutions, e-invoicing and innovative financing services. Our technology empowers organizations with 100% spend visibility by enabling the capture of all financial data across procurement, finance, accounts payable and accounts receivable functions. Basware is a global company doing business in more than 100 countries and is traded on the Helsinki exchange (BAS1V: HE). Find out more at basware.com.
Previous On Demand EBG | Webinars enabled by Basware