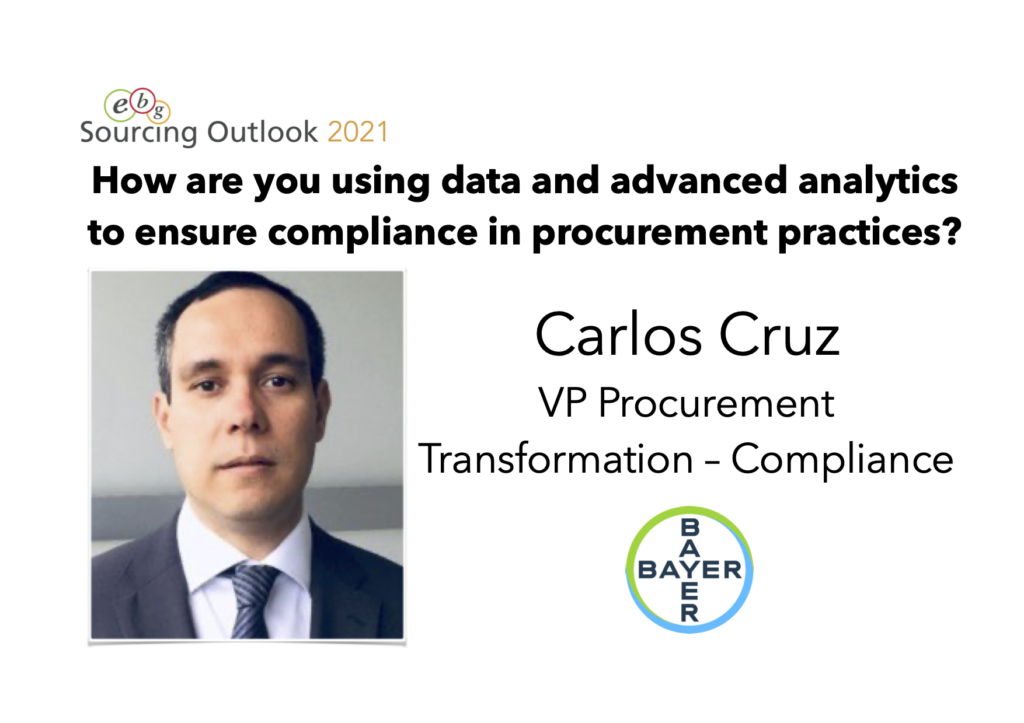 How are you using data to stay informed and inform those in need of insights? EBG | Network welcome Carlos Cruz, VP Procurement Transformation – Compliance at Bayer to Sourcing Outlook 2021. On November 25th you who join us will choose four Theme Discussions – online round table discussions – and meet with an experienced moderator and a peer group. You will discuss different topics each moderator want to discuss with You. This is not a conference you sign up for and do not log on to. Limited seats, EBG connect you prior and after (if you want to). This is the way EBG have brought people together since 2010, also now when we temporarily still need to meet online.
MISSION STATEMENT
During this session you will get hands on practical data communication and visualization experience exchange. You can draw from how your peers group are using data to ensure internal and external compliance.
How are you using data and advanced analytics to ensure compliance in procurement practices?
At Bayer, Compliance enables us to translate our mission into good business results and is therefore a crucial success factor within Procurement on which we cannot compromise. In 2020, goods and services were procured from 97,362 suppliers for approximately €17.7 billion and recorded in the Group-wide Bayer reporting system.
During this session you will discuss ways of working to ensure compliance in procurement. We will also exchange on how data analytics can help procurement to more actively manage risks and reduce value leakage.
How do You enable fact based insight and collaboration across the organization? 
Discuss;
How do you leverage advanced analytics from big data to support category leads and senior management?
How do you measure adherence to Procurement guidelines?
In what ways do you provide data to the business and back to the procurement organization?
How is data usage and analytics developing as technology is advancing?
What is a Theme Discussion?
Below an image from the spring summit Source 2 Pay Summit. It show what to expect from an EBG summit, this time too online. Peers and experts come together in smaller groups and draw from each others experiences. Informal yet to the point experience exchange in topics that relate to most wanting to develop procurement strategies and operations.
About Carlos
"I help companies to achieve best financial performance to fuel their mission and vision accomplishment by leading performing, humanized and ever evolving Procurement function, headed to sustainable practices and easy to work with."

Carlos Cruz
Carlos is overseeing the entire Bayer procurement external spend activities. His role is to support the CPO and PLT establishing robust compliance in Procurement practices.

Leveraging advanced analytics from big data and working along with category leads and senior management, Carlos role is to ensure internal clients adopt and work in line with Procurement contracts and guidelines, secure integrity in their S2P processes and protect Procurement value, while managing supply chain, financial and corporate social responsibility risk exposure.
Prior to working at Bayer, Carlos worked at Constellium, Syngenta and General Motors.
About Bayer
Bayer is a Life Science company with a more than 150-year history and core competencies in the areas of health care and agriculture.
The Bayer Group is managed as a life science company with three divisions – Pharmaceuticals, Consumer Health and Crop Science, which are also our reporting segments. The Enabling Functions support the operational business. In 2020, the Bayer Group comprised 385 consolidated companies in 83 countries.
On December 31, 2020, Bayer employed 99,538 (2019: 103,824) people worldwide. In Germany we had 23,398 (2019: 24,953) employees, which was 23.5% of the total Bayer Group workforce (2019: 24.0%).
About Sourcing Outlook
For the 5th annual time sourcing and procurement professionals come together. And when we say come together we mean just that. Through numerous moderator led, smaller group, online round table discussions, peers and experts meet to exchange ideas and experiences. Passionate people sharing the same interests meet – this is your needle in a haystack moment – finding others who share the same challenges as You.
The summit has always had limited seats – we allow up to 130 delegates in order to secure high quality experience exchange. This is not a summit you register to and then forget about – this is your opportunity to broaden your network in concrete areas.
As soon as you >>register you can start choosing what Theme Discussions to join.
Other topics you can choose to join are
Find >>more sessions to choose from