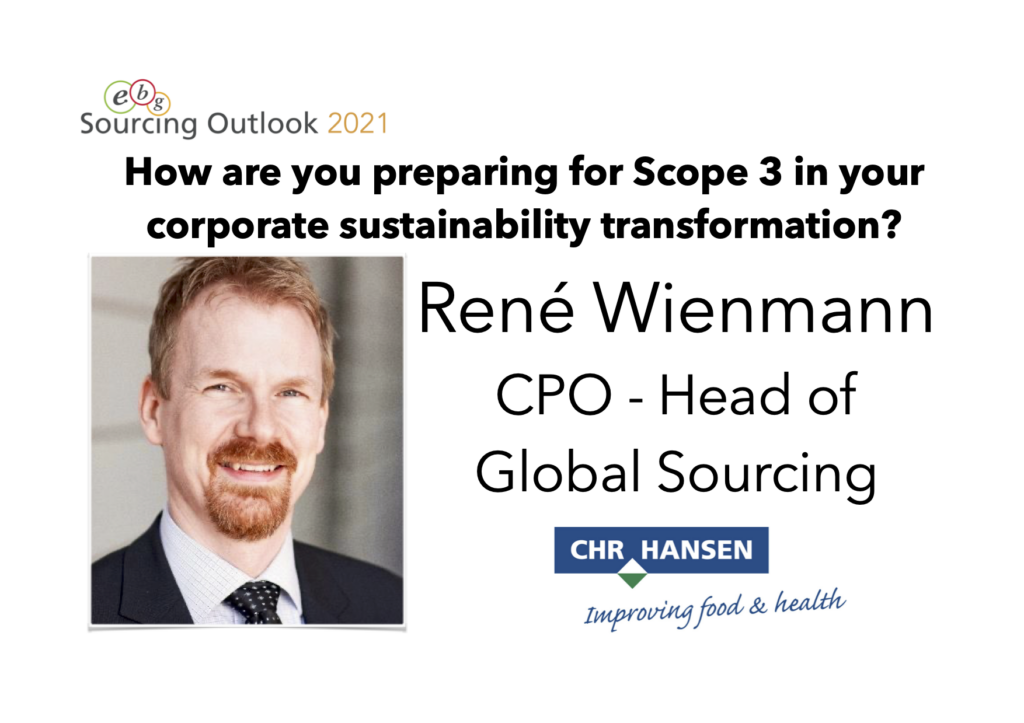 There is no escaping turning every stone to secure companies become more sustainable and practice in a more sustainable way. Procurement sit right in the middle of that – both being challenges but also opportunities to truly make a difference. EBG welcome René Wienmann, CPO – Head of Global Sourcing at Chr. Hansen to Sourcing Outlook 2021. He will join us in two segments. One sharing his many years of experiences developing digital procurement (and what that may mean). The other hosting Theme Discussions on November 25th about how procurement can prepare for Scope 3 in corporate sustainability strategies.
MISSION STATEMENT
During this session you will brief each other on steps taken and challenges faced reaching the sustainability goals set and about to be set in your organization. You will meet across industries and learn from steps taken and measured made.
How are you preparing for Scope 3 in your corporate sustainability transformation?
Winning the marathon to save the planet is not a one company nor one function job. Collaborating across organizations and industries will be a must. Where are you on your journey and what actions are you taking?
Scope 1 is direct emissions. Scope 2 is emissions associated with a company's purchased energy such as electricity. Scope 3 is everything else, such as building materials, food, travel, even waste. It's the emissions associated with all the goods and services that companies buy. "For most organizations, including government agencies and universities, the Scope 3 footprint is much larger than the operational footprint." (Anastasia O'Rourke)
We see companies setting "net-zero" or science-based targets to reduce their emissions around the world and during this session you will come together to discuss what this, other targets and Scope 3 mean and will mean to procurement organizations. Emissions might be further down in the supply chain where you don't have direct contact with the supplier. How do you gain control and how do you prioritize?
Discuss;
Where are you on your sustainability journey – are you at Scope 3 yet?
How do you prioritize efforts across your purchase volume and category spread?
Are you using input-output lifecycle assessments and average emissions by sector or make calculation with real data from suppliers or providers — or both?
What have your climate and CSR strategies meant to procurement to date?
How are you coming together and collaborating with other large buyers?
About René
René work as CPO Head of Global Sourcing at Chr Hansen today. He has previously had CPO roles at companies such as Novozymes, Carlsberg Group, Schneider Electric, Novo Nordisk an more.
About Chr. Hansen
Chr. Hansen is a global, differentiated bioscience company that develops natural ingredient solutions for the food, nutritional, pharmaceutical and agricultural industries. 
Chr. Hansen was founded in 1874 by Christian D.A. Hansen. We are about 3,600 employees in more than 30 countries. Headquarters are in Hoersholm, Denmark.
Chr. Hansen is listed on Nasdaq Copenhagen and revenue in the 2019/20 financial year was EUR 1,189 million.
What an EBG Summit is all about
The above session highlight all EBG | Network are about. Enabling passionate people who want to make a change learn from each other. To help each other find ways forward. EBG have had a strong belief in procurement playing a vital part in the fight for our planet since many many years.
A Theme Discussion during an EBG Summit – in 2020 and 2021 online – is a small group of people coming together based on what he or she are interested in. EBG connect you prior, during and after (if you want to).
As soon as you register you an start choosing what sessions to join.
Other Theme Discussions to join during Sourcing Outlook 2021