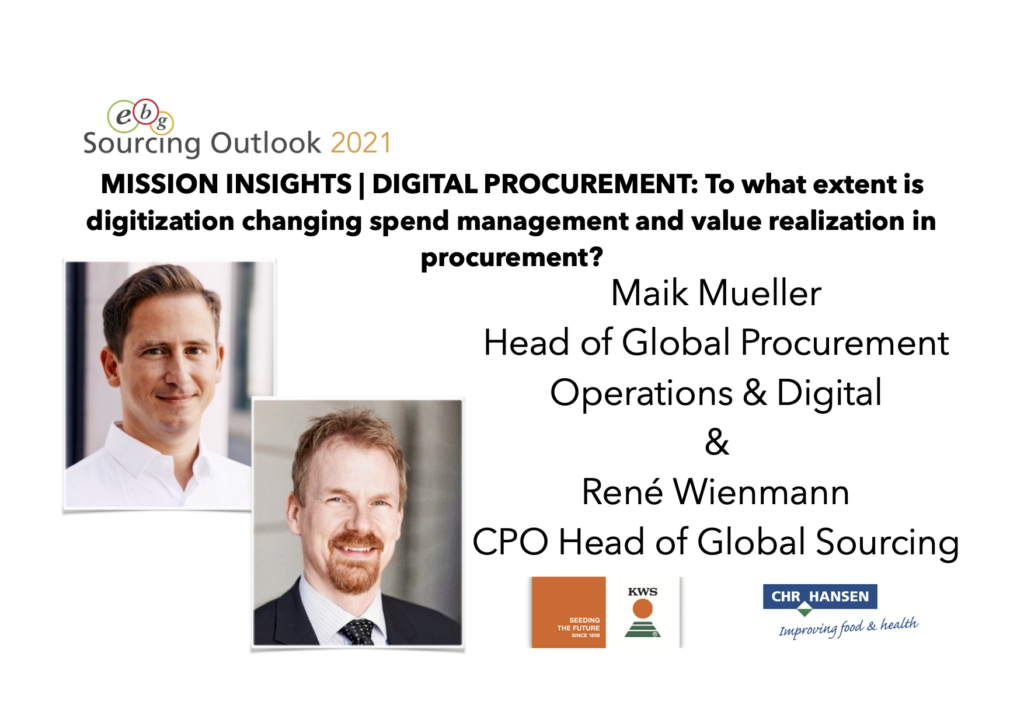 When something becomes so house hold it stops meaning something. Words that hold an eternity of promises yet is really hard to realize. Digital procurement. So, EBG asked two experiences practitioners from two different industries what They mean by Digital Procurement and how digitizing and digitalization of procurement – in their mind – can help develop businesses.
This session is open for all via the main room on November 25th. In the afternoon you who join can choose to join the round table discussion led by Maik about Digitizing and Automating starting from Zero or René here focusing on How procurement is preparing for Scope 3 (or select any of the other round table discussions available. All having limited seats.
To what extent is digitization changing spend management and value realization in procurement?
Do you agree on the Deloitte explanation of Digital Procurement? "Digital procurement is the application of disruptive technologies that enable Strategic Sourcing (S2C) to become predictive, Transactional Procurement (P2P) to become automated, and Supplier Risk Management (SRM) to become proactive." Know your data and automate as much as is possible. Even though technologies such as RPA, AI and Machine Learning have been around for a while – supply chain and procurement could be more digitized. We talk a lot about Digital Procurement – but what does that actually mean to organizations? Some are de-centralized, some centralized, have numerous ERPs, face cultural differences, have lack of organizational buy in, inefficient data management, budget concerns and more affecting strategy success.
During this session we will learn from different industries and how they perceive digital procurement developments.
We'll discuss;
How far do you think digitizing procurement can go in a large organization?
Where is your organization on that journey?
How have you organized digitization initiatives?
Give an example of a specific problem digitizing have solved in your organization
What have been key to succeeding with your digitization strategies to date?
Are you using one solution, one way to digitize and automate all spend categories?
What is your focus ahead?
René Wienmann | CPO Head of Global Sourcing | Chr.Hansen & Maik Mueller | Head of Global Procurement Operations & Digital | KWS Group
About René
René work as CPO Head of Global Sourcing at Chr Hansen today. He has previously had CPO roles at companies such as Novozymes, Carlsberg Group, Schneider Electric, Novo Nordisk an more.
About Chr. Hansen
Chr. Hansen is a global, differentiated bioscience company that develops natural ingredient solutions for the food, nutritional, pharmaceutical and agricultural industries.
Chr. Hansen was founded in 1874 by Christian D.A. Hansen. We are about 3,600 employees in more than 30 countries. Headquarters are in Hoersholm, Denmark.
Chr. Hansen is listed on Nasdaq Copenhagen and revenue in the 2019/20 financial year was EUR 1,189 million.
About Maik
Maik is an experienced manager with extensive expertise in strategic sourcing and purchase-to-pay process management for direct and indirect spend. Proficient in leveraging digitalization, automation, and data analytics to drive source-to-pay (S2P) efficiency and effectiveness. Skilled in setting up, developing, and leading international cross-functional teams.
Maik is Head of Global Business Services Procurement and IT with global accountability for procurement operations and IT operations. Key responsibilities include the definition and deployment of strategy and guiding principles, lean and automated processes, state-of-the-art systems and tools (RPA, AI, process mining, data analytics, chatbots), and the setup and development of a high-performing, results-oriented organization.
About KWS Group
For more than 160 years, KWS has stood for tradition, a down-to-earth approach and successful plant breeding, and also for modernization and international growth. In Klein Wanzleben, in the Magdeburger Börde, in 1856, farmer Matthias Christian Rabbethge laid the foundation for a family-owned company that is still closely linked to agriculture today.
The operating business of the KWS Group is managed in the three core segments of corn, sugarbeet and cereals. In addition, KWS builds up a new business unit for vegetable seeds.
The business units are supported by research and development, as well as administrative functions. Due to the integrated structure, the individual segments are closely connected.
KWS Quick Facts
Founded: 1856 in Klein Wanzleben
Headquarters: Einbeck, Lower Saxony, Germany
Revenue: € 1,283 million ( 2019/2020 )
EBIT: € 137 million ( 2019/2020 )
Employees: 5,709 , including approx. 2,100 in research and development
Research & Development: € 236 million ( 2019/2020 )
Breeding and sales operations in over 70 countries
87 subsidiaries and affiliates
About Sourcing Outlook
So – first the market was flooded with online conferences, now we get invited to hybrid events. Either online, hybrid or in person – there are and have always been really few conferences focusing on peer groups coming together in smaller groups based on interests. Why? It is too much work for the conference industry.
But it is not too much work for EBG | Network. 2021 being the 11th year in a row enabling smaller groups coming together. The value is spectacular and you should not settle for less when you go to a conference (in our mind).
You might have been exposed to "breakout rooms" or "coffee networking" or "use AI to match make with like minded". EBG hope it went well – but given the many years of experiences EBG have – that does not give optimal value. Making sure networking actually work take a lot of experience and hard work by those gathering you.
Below what an EBG Summit look like, here online. Sourcing Outlook 2021 is the final and last online summit held by EBG! We do shorter webinars and have since 45 minutes and will probably put together more focused online sessions. But not another online summit after this.
So – if you do not like traveling or don't think you can travel to Sweden Q3 2022 (or if you cannot wait that long to meet with peers) – register to join us on November 25th!