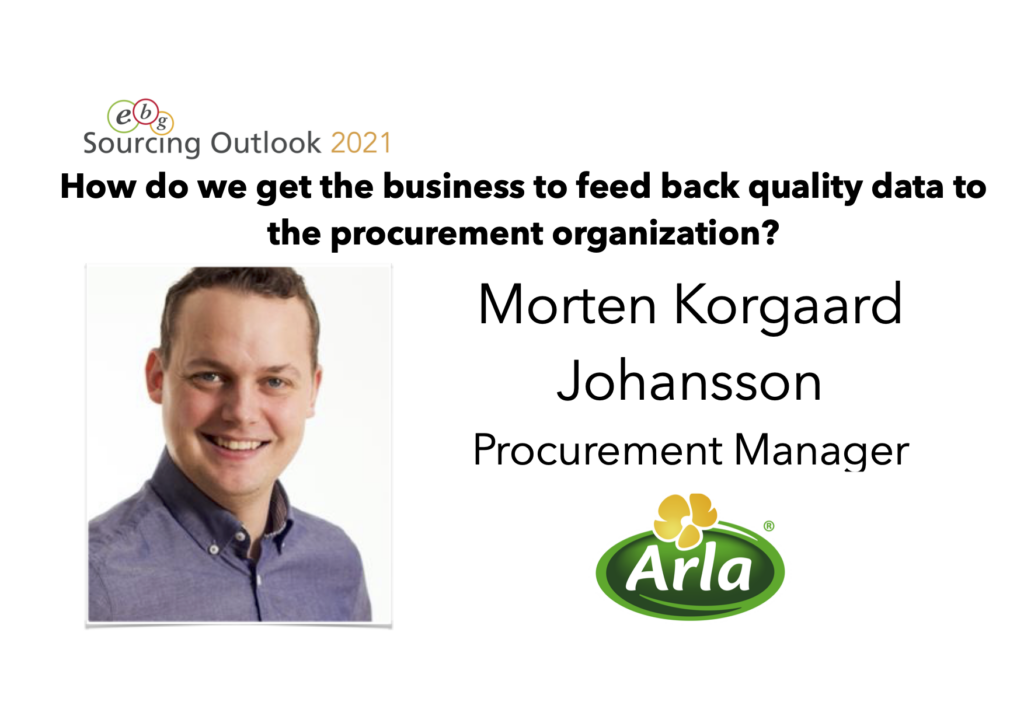 EBG | Network welcome Morten Korgaard Johansson, Procurement Manager, Procurement Infrastructure at Arla Foods to Sourcing Outlook 2021. He invite peers to join a discussion about data usage beyond spend data. How can procurement and the business collaborate to increase transparency and increase data quality?
You who join Sourcing Outlook 2021 on November 25th choose what Theme Discussions – online round table discussions – to join. You make your choices prior to the summit, EBG connect you in smaller groups prior, during – and should you want to – after the summit.
EBG know competences have never been more accessible and nor will they ever be. That is the upside with meeting online!
MISSION STATEMENT
Here you will leverage each other experiences increasing transparency in the source to pay cycle. Discussing how far you can push process compliance and how to get the best, high quality data and transparency fed back to procurement.
How do we get the business to feed back quality data to the procurement organization?
Arla Foods have made a procurement transition to a set up with an end to end source to pay system, processes and PO compliance structure. This discussion will focus on the next steps. When category managers have centralized contract management, POs are being used at a good level and  spend data is under acceptable control. Let's discuss ways of helping the business become even more compliant. How to ensure data quality in the S2P environment. Better use of data beyond spend data and a higher level of transparency helping procurement develop the business further together with suppliers.
Discuss;
How do you take compliance in the downstream P2P process to the next level (beyond PO toward feeding back quality data through orders)?
What are your experiences in using your system set up to leverage transparency in the S2P process and quality data back to category managers?
How do you ensure you get the right data for your category managers?
How does it work?
Each Theme Discussion is held for 2 x 50 minutes. You choose in total 4 x 50 minutes round table discussions based on what You want to discuss. Experienced and interested moderators host each ensuring you get great value joining us. As soon as you register you can start choosing what Theme Discussions to join.
About Morten
Morten is bringing Digital Procurement and Source2Pay alive at Arla Foods. He is now Procurement Manager, prior to this he was Product Owner and team lead on Agile Procurement System Infrastructure teams focusing on SAP Ariba development, Masterdata Governance/Quality and utilization of existing SAP solution. Morten was leading the implantation of Ariba Guided Buying from Business case to go-live on time below budget.
About Arla Foods
Arla Foods consist of 19,000 colleagues across 30 countries and 9,800 dairy farmer owners in Denmark, Sweden, United Kingdom, Germany, Belgium, Luxembourg and the Netherlands. They aim to create the future of dairy, to bring healthy and sustainable dairy products to people across the world and to lead the transition towards sustainable dairy farming and production.
We work continuously on the farms, at the dairies and in our administration to reduce our carbon footprint and environmental impact. We are committed to champion good food habits and inspire a healthy life. We collaborate with NGOs and public stakeholders to develop viable dairy sectors in our emerging markets and to ensure access to affordable dairy nutrients. And we take our responsibility, our relationships, and our role in society seriously. Through these actions, we support a stronger planet and enable stronger people. We work together with our customers, scientists, suppliers, NGO's and other stakeholders who help us develop our business. Our consumers will benefit from our innovative approach and quality focus through our the well-known brands Arla®, Lurpak®, Castello® and Puck®, which are sold in more than 120 countries.
• Revenue 2019: 10.5 billion EUR
• Cooperative owners: 9,800
• Milk volume 13.7 bn kg
About Sourcing Outlook
EBG Summits are about bringing people together based on interests. This year too online, small group round table discussions. Developing businesses is complex, poses many challenges but also hold many possibilities! Sourcing Outlook is about enabling you to come together with peers, in 2021 online.
EBG | Community and online platform for you having joined an EBG Summit
Stay in touch also after an EBG Summit – if you want to. EBG have created a straight forward online platform via which groups can stay in touch. Only you who join our summits can join EBG | Community and it is of course voluntary.
Sourcing Outlook 2021 Theme Discussions
Other Theme Discussions to choose from are (and there are many more)