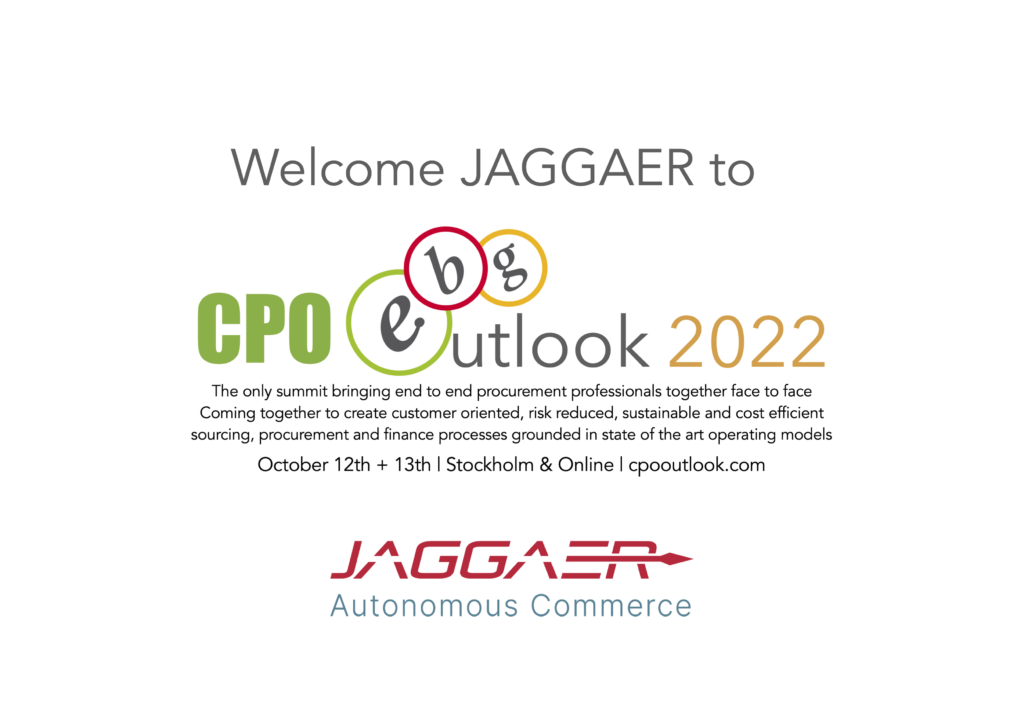 EBG | Network welcome JAGGAER to CPO Outlook 2022 on October 12th and 13th in Stockholm and Online. JAGGAER join as an Expert Organization and they have a vision and tools to manage both downstream and upstream procurement flows.
EBG know you may not even now how many suppliers you have across multiple businesses, ERP systems and countries. The data available may be conflicting and not classified the same way. Your KPIs may be dated and not reflecting the end to end control you need to have.
You will need to gain that control – the question is how and to what extent. ESG visibility and customer demands place that pressure on all businesses and it is a cross function task to collaborate to gain the insight. Procurement sit in the heart of the business and there are every opportunity to be that change maker and enabler of business.
What do the words Autonomous Commerce mean to you? A vision about transforming the way you buy, sell, and partner? Listen to interviews in areas JAGGAER have expertise in.
What is autonomous procurement?
Supplier Relationship Management: Relationship, Governance & Risk
Augmented Analytics: Leading procurement with new data insights
About JAGGAER
JAGGAER is leading the Autonomous Commerce revolution, a self-governing B2B commerce experience between buyers, suppliers, things (IoT) and partners. Over $500 billion worth of goods flow frictionlessly through our Enterprise Commerce Network every year. Leveraging AI and machine learning, our intelligent procurement solutions provide enterprise buyers and suppliers smart-match recommendations that align buyer needs with supplier capabilities. Our solutions autonomously execute many of the repetitive, behind-the-scenes tasks required to facilitate enterprise commerce. We are Networked, Intelligent, Comprehensive and Extensible. We are over 1,100 employees strong, all focused on customer success. For more information, visit jaggaer.com
EBG | Business Directory | JAGGAER
Learn more about JAGGAER via EBG Business Directory here.
About CPO Outlook 2022
EBG have brought together peers and experts since 2010. Always baring in mind that people are the enablers of business development. Considering that large businesses have been organized in silos for decades. Making that division of duties gaining end to end visibility a challenge. What triggered EBG to be founded once was the insight that businesses want that complete control and insight, want to collaborate across functions and with external business partners – but often lack the tools – systems and work methods – to actually do it. And so EBG | Network was founded.
Make sure to register your interest to join or just learn more about CPO Outlook 2022 here.