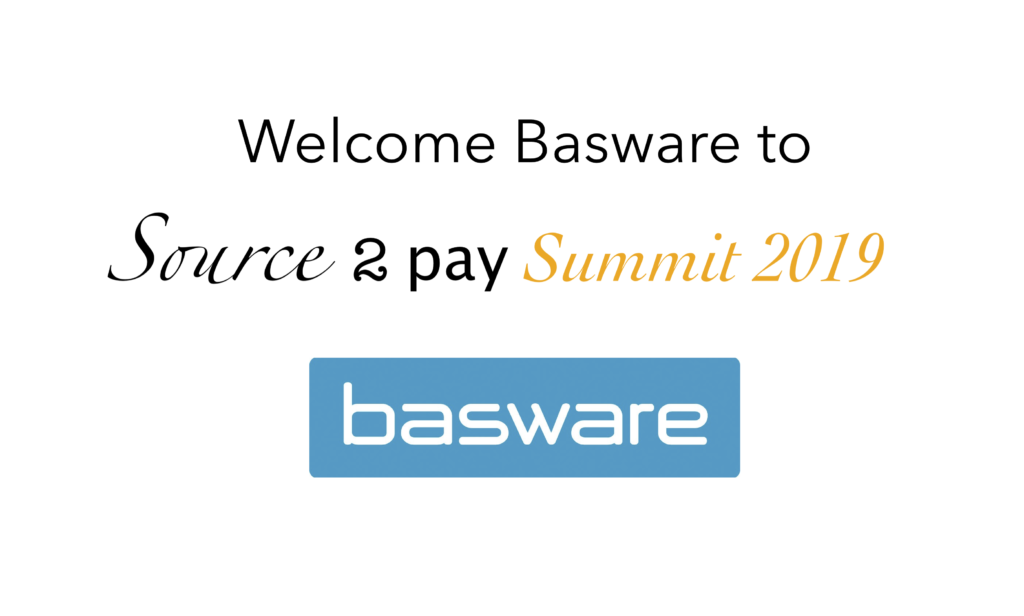 They are one of our long term customers. EBG have followed their development and growth for ten years and a lot has happened in the market during that time. A lot has happened maturity wise among companies procurement and finance departments too and it is fair to say that taking an end-to-end – purchase to pay – perspective today is a must.
EBG | Network are happy to welcome back Basware to the annual Source 2 Pay Summit 2019, the 9th version, held in Stockholm on March 28th!
Source 2 Pay Summit is one of few gatherings taking that end-to-end perspective. We know how hard it is to change behavior, to visualize outcomes and ensure KPIs enable both efficiency and effect. Ad to that the waves of digitalization upon us – how do we make use of that? We help you by making sure you get to share experiences with both area experts and other practitioners.
Here you can learn more about the conference >>Source 2 Pay Summit 2019
About Basware
Basware offers the largest open business network in the world and is the global leader in providing networked source-to-pay solutions, e-invoicing and innovative financing services. Our technology empowers organizations with 100% spend visibility by enabling the capture of all financial data across procurement, finance, accounts payable and accounts receivable functions. Basware is a global company doing business in more than 100 countries and is traded on the Helsinki exchange (BAS1V: HE). Find out more at basware.com.
Purchase-to-Pay Content Library
EBG have hosted several webinars featuring Basware competences, below you can find a few. Make sure to join us in March for a face to face sit down with great competences!
Robotic Process Automation (RPA) for Procurement & Finance
We say WOW. What HUGE interest the below webinar session about robotic process automation with Göran Martinsson at PwC and Buster Olsborn at Basware generated. Across the globe and across functions. Below you can see for yourself what we discussed – >>here you can view a poll summary.
Aligning Finance & Procurement reducing wasteful spending
During an EBG | Network webinar, enabled by Basware, Sebastian Selhorst at Forrester, Victor Nanni at Fortifikationsverket and Lauri Palokangas at Basware gathered from different parts of Europe to share alignment challenges and opportunities. Take a look below and >>here you can view the poll summary:
Measurable Purchase-to-Pay automation
EBG | Network teamed up with Lauri Palokankas at Basware to do a webinar with a to-the-point focus on how to "do" purchase to pay from an end user perspective.
Is there a need for a P2P vision?
Do you have to decide on a P2P scope?
How do you decide what KPIs to use to measure performance?
How do you calculate the P2P business case?
How do you implement in accordance to the above?
Rutger af Sandeberg came to our aid and shared his years of experience working at Scania with P2P business development in a global environment. In the below recorded webinar he share how they set up the above requirements and how they follow it up. View the poll summary >>here and the recording below.
Making sense of procurement & accounts payable data
A great number of people signed up to join a webinar named ""How do you make sense of procurement and accounts payable data?" where Jereme Pineda then at Basware shared his insights into the matter. From a finance perspective cost is a solid way of analyzing purchase to pay outcome, but how about looking at it from a procurement perspective? And what about the business perspective… Take a look at the poll summary >>here and the recording below.