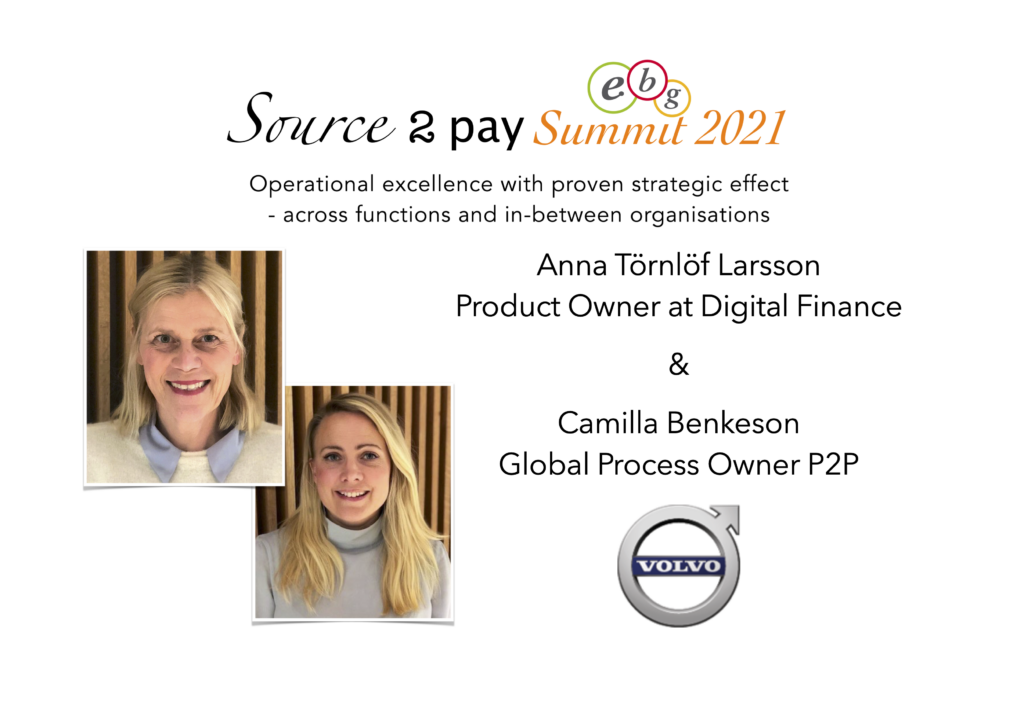 Even though we want to discuss source to pay efficiency and effect, in reality companies have historically divided this process into segments. Source to contract, purchase to pay, requisition to pay, invoice to pay and so on. Increasingly though, companies are coming together across functions in order to reach set targets. Collaborating also with the different segments. Volvo Cars is such an example. A company EBG | Network have had the pleasure of following for several years, being able to share their transformation journey from different perspectives. At Source 2 Pay Summit 2021 on May 6th you will learn from Anna Törnlöf Larsson, Product Owner at Digital Finance and Camilla Benkeson, Global Process Owner P2P at Volvo Cars. You will learn how they have tackled the final P in P2P.
Theme Discussions
On May 6th Source 2 Pay Summit is held online, enabling you and your colleagues from across Europe to come together, for real. The majority of the day consist of pre-chosen, limited seats, on web-camera, moderator led online round table discussions. For EBG | Network, this is not new, these round table discussions have been the core of our gatherings since 2010. Also now when we have to be online. Register today to ensure You get to choose, they all have limited seats.
Keynotes and Focus Sessions
On May 6th you will also be able to sit back and listen. Learn from questions asked and bring your thoughts with you into the next round of round table discussions. "Did you also choose to XX?", "What did XX do when you proposed all change ways of working?", "How did you go about ensuring XX when you started your transformation journey?" There is huge power in learning from peers and experts in an informal yet to the point way. You decide what is important for You to discuss.
Volvo Cars Focus Session about the final P in P2P
Remember when all we (at least half of the companies) spoke about automating invoices? Procurement did not (10 years ago). Then something happened. Functions are starting to come together to work on both up and downstream aspects even though the main responsibility lies in individual functions. Finance are collaborating with procurement.
Below what you will learn during the Volvo Cars Focus Session
How do you accelerate and optimize the final P in P2P in your digitalization journey?
Since September 2020 you can no longer send paper invoices to Volvo Cars in Sweden. Country by country is going to be rolled out, focusing on the highest volumes first. When the global automotive industry in general is changing and Volvo Cars in specific is transforming with the aim for half of its global sales to be fully electric cars and half of its revenue to be generated from direct consumer business by 2025 – Finance needs to play its part!
With a tight collaboration with Procurement we have set our digital targets,  system solution for paper invoices are decommissioned and efficiency is increased.
 
Volvo Cars have since 2017 chosen to move over to the agile methodology, part of finance and procurement have adapted into the new way of working to meet future requirements of business.  
During this session you will learn about their roadmap to saying no to paper invoices is a vital part to become digitalized within finance area, what choices they have made ensuring both procurement and suppliers are onboard for the change.
What does it mean saying no to paper invoices?
In what ways have finance and procurement collaborated in communicating with suppliers?
What impact have the agile way of working had on the roll out of "no paper invoices"?
How is the final P within P2P process part of preparing for the transformation?
By now you probably have lots of questions. About the smaller details, about major choices. You wish you could ask Anna and Camilla, what did you mean by xx? How did you ensure XX? And you know what, you can.
Volvo Cars Theme Discussions
Below the online round table discussions you can choose to attend following their Focus Session.
What does optimizing the final P in P2P mean to you?
Continue the conversation following their Focus Session. Companies have discussed removing paper from business transactions for a long time yet there are still many challenges. Why? Since September 2020 you can no longer send paper invoices to Volvo Cars in Sweden and country by country is to be rolled out. Finance have a tight collaboration with Procurement and have set digital targets. How does that compare to Your organization? Here you can discuss and compare digitalization journeys, common challenges and ways of working.
What can Finance do to include Procurement more when setting digital targets?
Which are the main challenges You are facing when removing paper invoices?
How does it matter what methodology you use (Volvo Cars have an agile methodology)?
About Anna
Anna is Product Owner at Digital Finance/ Vendor Invoicing. She has been driving Development for invoicing solutions that will automate and bring effiency into P2P process for Volvo Cars. Anna is also Global Project Manager for Ariba project within Volvo Cars Global roll out of a Ariba P2P solution and Ariba Catalogs.
Anna has lead of the project team with main focus on Supplier onboarding activities related to Supplier Enablement and Supplier Integration. Working cross functional with stakeholders and primarily finance to secure a long term solution both for process and solution.
Prior to Volvo Cars Anna was Sourcing Excellence Manager at Global Sourcing at Essity.
About Camilla
Camilla is an experienced accountant that has worked almost 10 years in international environments in different roles. She currently hold the title Global Process Owner at Volvo Cars. She is also an Intercompany expert accountant. Prior to Volvo Cars Camilla worked at Ford Motor Company and Noreko.
About Volvo Cars
The first Volvo car rolled off the Gothenburg production line in Sweden in 1927. Since then, Volvo Car Group has been a world-leader in safety technology and innovation. Today, Volvo is one of the most well-known and respected car brands in the world with sales in about 100 countries.
Volvo Car Group (Volvo Cars) is owned by Zhejiang Geely Holding (Geely Holding) of China. Volvo Cars formed part of the Swedish Volvo Group until 1999, when the company was bought by Ford Motor Company. In 2010, Volvo Cars was acquired by Geely Holding.
The 'Volvo' name is owned by Volvo Trademark Holding AB, which is jointly owned by Volvo Cars and Volvo Group.
Volvo cars are marketed and sold by regional market companies and national sales companies through approximately 2,300 local dealers in about 100 countries. Most of the dealerships are independent companies. As of December 2020, Volvo Cars had around 40,000 full-time employees around the globe.
Others joining Source 2 Pay Summit 2021
Take a look at some of the other competences joining the summit on May 6th – hurry to register and start choosing who You want to discuss with:
Jacob Gorm Larsen – Head of Digital Procurement at Maersk
Anna Lagerhed, Head of Intelligent Automation at SSAB and Alexander Hübel, Head of Analytics, Automation & AI Transformation at Ericsson
Bjørg Nikoma, Senior P2P Specialist at Telenor
Just to mention some – EBG expect to enable about 35 online round table discussions on May 6th!
About Source 2 Pay Summit
Since there are tons and tons of online resources to listen to these days, EBG are attending different sessions to learn more. The other day EBG attended a webinar focusing on the other side of source to pay – order to cash. Did you know that EBG did an order to cash summit already in 2011? Just as with source to contract it was fascinating to hear then about the lack of collaboration and visibility.
It is still the same. The prominent practitioners sharing during this particular webinar all agreed – we need to focus more on change management and coming together across functions.
Change Management experiences
That is the core and heart of EBG | Network summits. We know this is the case. We know you want to be blown away by technology advances and they are advancing fast. But. At the end transforming businesses still to a large extent consist of changing peoples behavior. And that take time and is really hard.
Source 2 Pay Summit is if EBG may say it the perfect combination of learning all about the latest advancements in technology during informal discussion sessions (what use is it if someone tells you how good a solution is if you cannot ask how well that would fit Your organization?). You also get to discuss all the other aspects we know you also find challenging;
You have the data but the organization don't tend to use it
You want to digitize but cannot get the rest of the organization to buy in on it
You have the mandate to transform your business but are not sure current skill sets in the organization will do
You are given a huge project and just hope the plan will work
The list can of course go on and on. At Source 2 Pay Summit you can – however now online – ask all these questions and learn from how others have solved them. You will find new contacts that you would not have met otherwise and EBG hope to SEE you online!