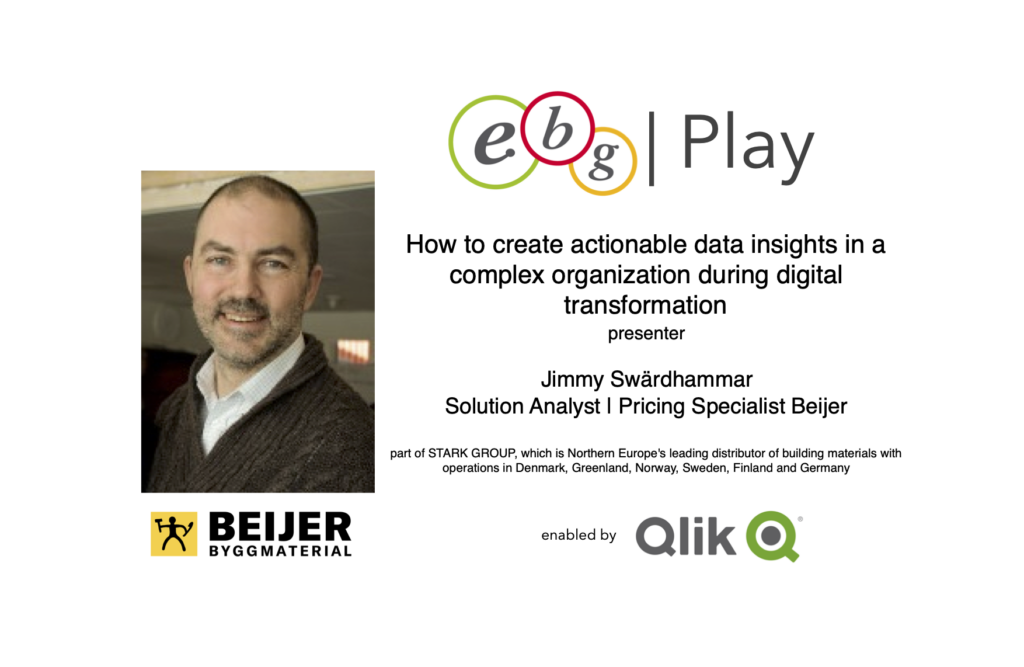 This session have several layers. Individual courage, corporate visions and market challenges. Many industries are facing changing market environments due to raw material shortages. Challenges keeping up to customer demands asking for shorter delivery times and price reductions. Finding ways to ensure data streams are up to date, used as intended and continuously improved.
Qlik enabled EBG | Network to host a webinar where Jimmy Swärdhammar, Solution Analyst | Senior Pricing Specialist at Beijer shared his many years of experiences. Experiences improving data collection and data merge during corporate M&A. Experiences speaking about data with different functions and individuals based on their needs. Experiences being agile when market prerequisites change constantly.
On Demand | Actionable data insights in a complex organization during digital transformation
Click >>this link or the image below to access the recorded session.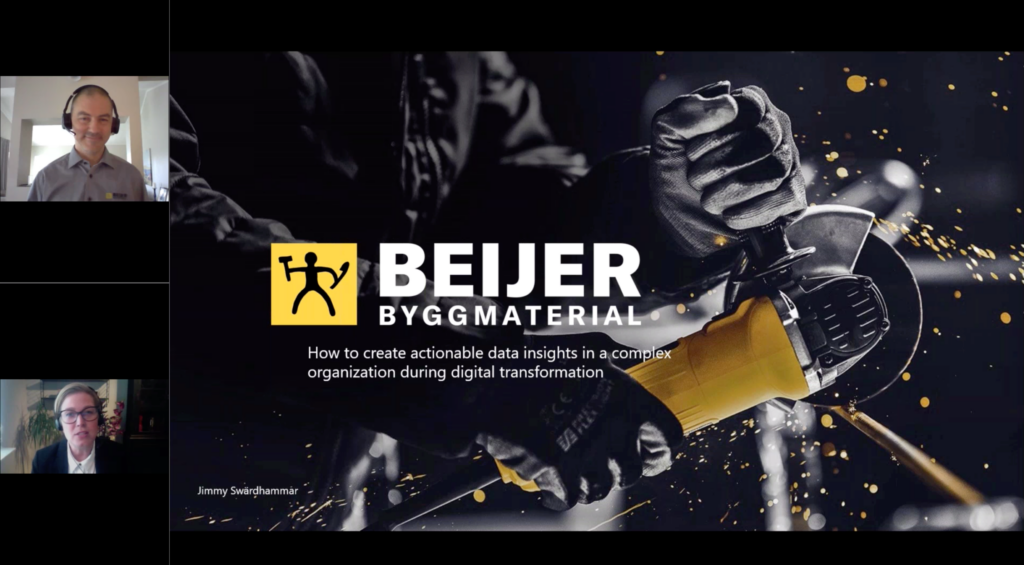 To reflect upon
This session leave EBG with some new reflections – do you agree after watching it?
Not having unified industry data formats still poses challenges
Merging necessary data and processes upon a merger is still a challenge (however Beijer have found efficient ways!)
Gathering data with different classifications is still a challenge (but can be done!)
Raw material, price structures and customer demands can change rapidly, knowing your data is key (and there are ways to achieve it!)
Engaging stakeholders still poses challenges – know who you are talking to and what is important to them! There are ways to adapt data/dashboards etc depending on who you talk to – one size does not fit all
Beijer like many other companies are on a digitization and digitalization journey. There is much to learn from each others experiences!
About Beijer Byggmaterial
Beijer Byggmaterial is a Swedish chain of hardware stores in 83 stores from Trelleborg in the south to Kiruna in the north, central warehouses and delivery hubs with a wide and well-assorted product range aimed at both professional customers and consumers.
Beijer Byggmaterial is part of STARK GROUP, which is Northern Europe's leading distributor of building materials with operations in Denmark, Greenland, Norway, Sweden, Finland and Germany. STARK GROUP owns STARK in Denmark and Greenland, Neumann Bygg in Norway, Beijer Byggmaterial in Sweden, STARK in Finland and STARK in Germany.
Changing markets
In construction, the pandemic has, among other things, meant faster growth because more of the economy is spent on "nice homes". Delivery of goods and raw material supply is a major success factor but requires a flexible strategy in purchasing, logistics and price processing. How do you handle it based on real-time facts with a customer-oriented approach?
About Qlik
Qlik helps enterprises around the world move faster, work smarter, and lead the way forward with an end-to-end solution for getting value out of data. Our platform is the only one on the market that allows for open-ended, curiosity-driven exploration, giving everyone – at any skill level – the ability to make real discoveries that lead to real outcomes and transformative changes. And you get the freedom to use our cloud or any cloud you choose.
Other Qlik enabled sessions
For the past years, EBG have hosted sessions enabled by Qlik covering several areas. The core always being enabling individuals help corporates make better decisions. Democratizing data by making it accessible and understandable.