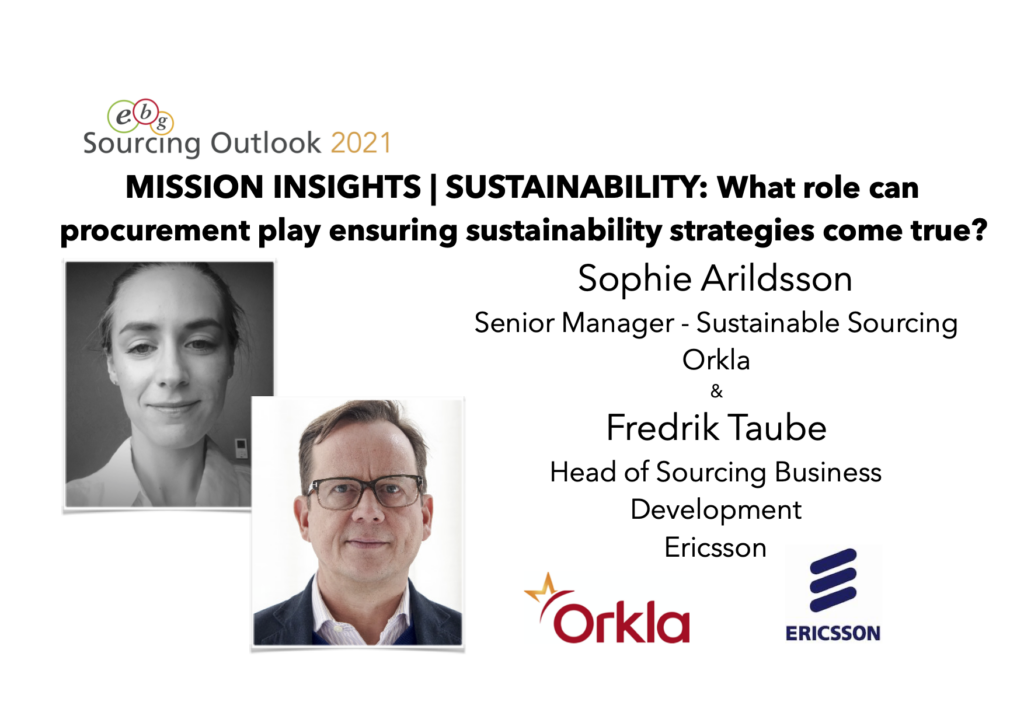 EBG | Network welcome Sophie Arildsson, Senior Manager – Sustainable Sourcing at Orkla and Fredrik Taube, Head of Sourcing Business Development at Ericsson to Sourcing Outlook 2021. They join a session where we will listen to their experiences and draw from their perspectives.
The focus is "What role can procurement play ensuring sustainability strategies come true?"
Apart from digital procurement and possibly risk management – there are few topics more discussed within procurement than sustainability. It is easy to get caught between a rock and a hard place and this session aim to dig deeper into what actions a couple of companies are taking. And what those actions mean to procurement and the overall procurement strategy.
MISSION INSIGHTS | SUSTAINABILITY: What role can procurement play ensuring sustainability strategies come true?
The world needs it, companies taking action to ensure a more sustainable future. To meet our own needs without compromising the ability of future generations to meet their own needs. Annual reports and corporate mission and vision statements are filled with them – the promise of safe guarding natural resources as well as social and economic resources. Sustainability is more and more becoming a strategic imperative every day.
In the middle of those strategies you find procurement and an ecosystem of suppliers. Supply chains becoming increasingly complex. Procurement ensuring both resources are used efficient and that company solutions and offerrings are sustainable.

During this session you will learn about how different industries perceive sustainable procurement strategies and operations.
We'll discuss;
Which sustainability goals have your company set up (Net Zero, Circular, Social Trust etc.)?
What does sustainable procurement and responsible sourcing mean to you?
How do you translate your corporate sustainability goals to procurement strategies and operations?
What financial and revenue connected impact have you found working with sustainable procurement?
What impact have and will standardization have enabling sustainability targets within procurement and supply chain management?
How are you controlling and engaging with your supplier ecosystem to ensure insight?
In what ways are you monitoring sustainability KPIs and supplier commitment in end to end operations?
Let's see how much we can cover during the limited time we have. In the afternoon you who join the summit can join the Theme Discussion led by Sophie and Fredrik. Continue the conversation, ask all your questions and allow them to learn from you too!
About Sophie
Sophie is an experienced sustainable sourcing manager with focus on FMCG, working with raw materials, packaging and indirect. She has extensive international experience and is used to working with different cultures. Sophie is currently overseeing Orkla´s global sustainable sourcing programme.
About Fredrik
Fredrik ave worked both in sales and procurement. He has been part of developing the Ericsson sourcing structure and is currently Head of Sourcing Business Development.
About Orkla
Orkla is a leading supplier of branded consumer goods and concept solutions to the grocery sector, specialist retailers, out-of-home sectors and the bakery market. The Nordic and Baltic regions are Orkla's main markets and account for approximately 80% of the turnover of the Branded Consumer Goods business. The Orkla Group also holds good positions in selected product categories in Central Europe and India.
Orkla's Branded Consumer Goods business comprises the Orkla Foods, Orkla Confectionery & Snacks, Orkla Care and Orkla Food Ingredients business areas. Orkla also has operations organised under the Orkla Investments business area, consisting of the investments in Sapa (50% interest) and Jotun (42.5% interest), in addition to Hydro Power, real estate and financial assets.
Orkla ASA is listed on the Oslo Stock Exchange and its head office is in Oslo. As of 31 December 2018, Orkla had 18,510 employees. The Group's turnover in 2015 totalled NOK 40.8 billion.
About Ericsson
We are a world leader in the rapidly changing environment of communications technology – by providing hardware, software, and services to enable the full value of connectivity.

ericsson.com
Quick facts
Net sales, Q2 2021: SEK 54.9 billion. 
Listed: Nasdaq Stockholm and on NASDAQ in New York
Employees Total 101,624
* of which Sweden: 13,626
(numbers from the latest interim report)
About Sourcing Outlook
For the 5th time – second time online – sourcing and procurement professionals meet to share experiences. Since business development from any perspective is not as easy as focusing on just one aspect. And different companies focusing on different aspects – Sourcing Outlook like any other EBG Summit, narrow down on different topics. Challenges and opportunities depending on how you view them. All based on what each moderator leading the Theme Discussion – round table discussion – want to talk to You about. Only other peers can join each Theme Discussion, making Sourcing Outlook the probably highest quality conference you can attend – physically or online.
Other sessions you can choose from
And many more! As soon as you register you can start choosing what sessions to join.