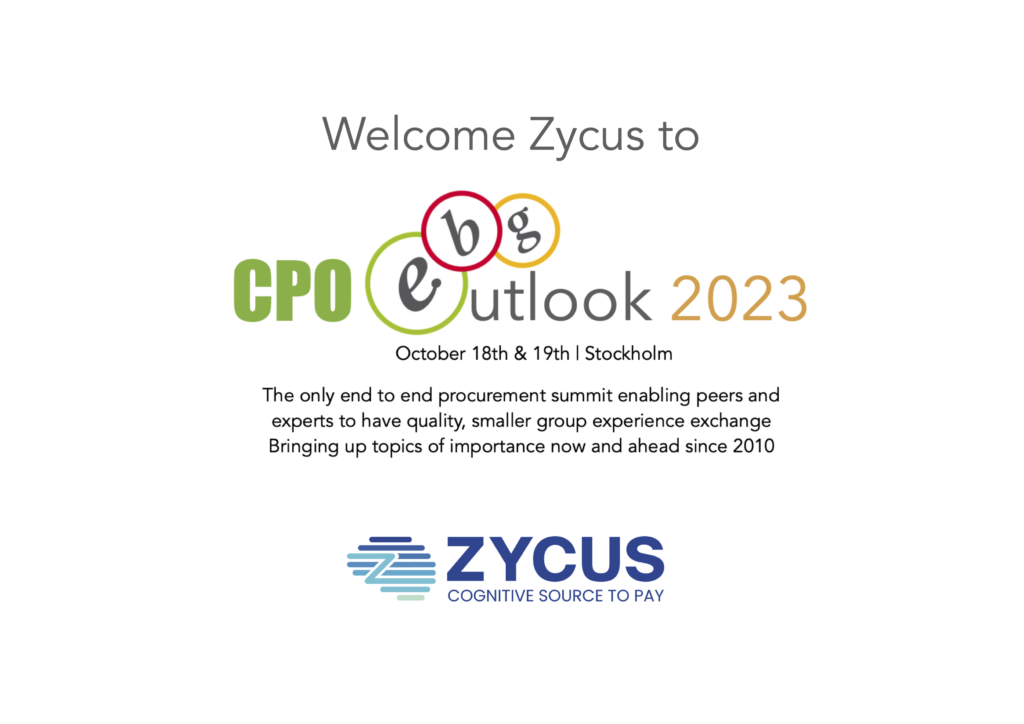 A warm welcome to Zycus joining CPO Outlook 2023 as an Expert Organization. EBG have continuously welcomed Zycus back to summits since 2018 and have also hosted a series of webinars throughout the years (take a look >>EBG | Play: Building Partner Enabled Digital Offerings through AI, >>EBG Play | Beyond Trends: "10 Transformational Realities" redefining procurement, >>EBG | Play: Procurement AI: From Promise To Realization).
On October 18th & 19th you who join CPO Outlook 2023 in Stockholm will have unique opportunities to learn from peers and experts. You create your own days filled with round table discussions and workshops.
As we come from times of uncertainty and find ourselves in market volatility it is even more valuable than ever to come together.
About Zycus
Zycus is the pioneer in Cognitive Procurement software and has been a trusted partner of choice for large global enterprises for two decades. Zycus has been consistently recognized by Gartner, Forrester, and other analysts for its Source to Pay integrated suite.
Zycus powers its S2P software with the revolutionary Merlin AI Suite. Merlin AI takes over the tactical tasks and empowers procurement and AP officers to focus on strategic projects; offers data-driven actionable insights for quicker and smarter decisions, and its conversational AI offers a B2C type user-experience to the end- users.
Zycus helps enterprises drive real savings, reduce risks, and boost compliance, and its seamless, intuitive, and easy-to-use user interface ensures high adoption and value across the organization.
Start your #CognitiveProcurement journey with us, as you are #MeantforMore.
Topics you will be able to listen to and discuss during CPO Outlook 2023 include (limited seats at each table);
Is AI just another hype and how will it impact procurement? | ATG
Supplier Performance Management in 2023 | Coloplast
Challenges in Procure-to-Pay adoption ( and how to overcome them ) | DeLaval
Keynote | How do you enable next level procurement performance management? | IKEA
How much may resilience cost? | IKEA
How do procurement need to work in the future if all suppliers are a potential risk? | Länsförsäkringar
Keynote | Balanced Category Strategy – how to unlock the true value of Purchasing | Scania
How do you realize changed procurement focus and ways of working? | Scania
How do you organize an array of processes in a global organization? Perhaps via a Purchasing Process Ecosystem | Electrolux
How do you expand as a procurement organization from protecting and optimizing Cost & Supply to being a key enabler for Profit & Reputation growth? | Orkla Foods
Keynote | Encouraging a start-up mentality and digital first approach building a new procurement organization | Aurobay
How do you shape and organize procurement resources in a flexible way? | Aurobay
How do you navigate in matrix organization to ensure transformation in procure-to-pay area? | Danish Crown
How are you preparing for the Corporate Sustainability Due Diligence Directive? | Stora Enso
Keynote | What are the challenges and opportunities in relationship based supplier agreements? | ISS & ALD/LeasePlan
How do you evaluate and understand what type buyer-supplier relationship is best fitted? | ISS & ALD/LeasePlan
Strategies and solutions to the evolving landscape of supply chain regulations | Prewave
Escaping the Reactive Compliance Trap: Strategic Risk Management as a Foundation for Sustainability ROI | EcoVadis
How the race to net zero will change procurements role in organizations | Ivalua
CSRD: Driving Sustainability and Compliance through your contracts | Icertis
Beyond Spend Analytics – Procurement Analytics now and in the future | Sievo
Efficient Spend Management, Risk Mitigation, and Maverick Spend Control – By working smarter and automating | SAP
Navigating Global & Local External Workforce Trends in 2023 with Assa Abloy | Magnit
About CPO Outlook
In 2007 Anna Bjärkerud, founder of EBG, finished her university thesis focusing on how peoples professional identity is affected during corporate changes such as a re-organization. Today we walk about transformation all the time. It seems many professions may be obsolete as technology evolves. Still, thousands of people are here today to make sure companies deliver as planned. People in need of learning from each others experiences.
Not the high level 20 year ahead visions but starting here and now. How have others solved problems and made use of possibilities here and now and in the upcoming future?
Welcome to join CPO Outlook and have a unique experience found no where else in the Nordics. As you >>register you will be able to start choosing what sessions to join. Optional but with the opportunity to ad insights into what You hope to learn and discuss with others. Others who just may hold the key to a challenges You have.