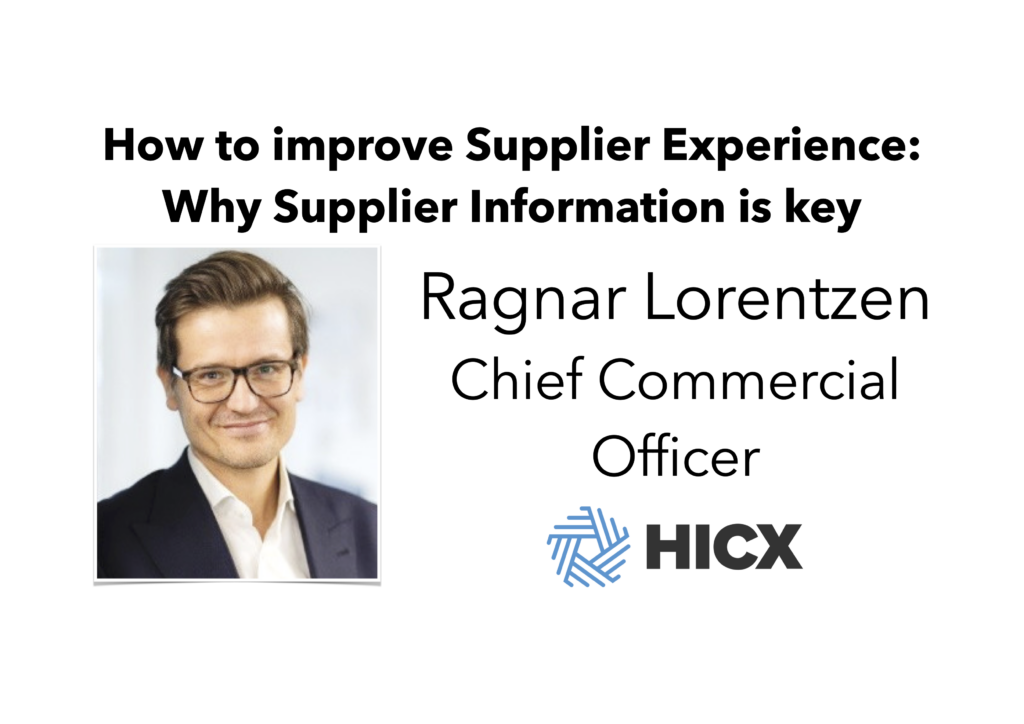 What is the status of your supplier experience management? Does it matter? During Source 2 Pay Summit 2021 you can discuss the role of supplier experience management and compare with peers. On May 6th peers from across Europe will join the below Theme Discussion hosted by Ragnar Lorentzen, Chief Commercial Officer at HICX.
How to improve Supplier Experience: Why Supplier Information is key
Just as companies have over the last 50 years changed their attitude towards their employees from, "you're lucky to have a job" to recognizing that they're in a war for talent, so too leading organizations are transforming the way they work with suppliers; focusing exclusively on price alone is no longer going to cut it. 
'Supplier experience management' means removing the friction from all interactions with all your suppliers, enabling them to do their best work for you.  In this session we'll consider whether intensive collaboration projects with just a handful of strategic suppliers is enough, or if it actually makes more sense to view your entire supplier base – direct and indirect – as a source of competitive advantage.
Does Supplier Experience matter?  How has procurement evolved past savings to make supplier relationships matter more the before?
What's the potential ROI from investing in a better supplier experience?
What is preventing us from creating great supplier experiences?
What would enable a great supplier experience?
Compare with peers
The beauty with EBG | Network enabled Theme Discussions is the possibility to meet up with peers from across Europe. All sharing the same interests as You. You decide which online round table discussions to join, making these sessions hold the potential of giving you insights you cannot get anywhere else.
What are Theme Discussions
Theme Discussions are online, pre-chosen, moderator led, limited seats, on web-camera round table discussions focusing on different topics. Each topic is carefully chosen by each moderator – making EBG Summit programs a true sign of the time!
And it works. In 2020, EBG hosted the first online Source 2 Pay Summit and found that it made a difference. Since we still cannot meet in person, the 2021 version too is held 100% online. Creating a unique possibility to bring together colleagues independent of their physical location!
Start choosing – limited seats
The choose sessions link is open and you receive the choose session password together with your confirmation email.
Other sessions during Source 2 Pay Summit 2021
Take a look at some of the other competences joining the summit on May 6th – hurry to register and start choosing who You want to discuss with:
Jacob Gorm Larsen – Head of Digital Procurement at Maersk
Anna Lagerhed, Head of Intelligent Automation at SSAB and Alexander Hübel, Head of Analytics, Automation & AI Transformation at Ericsson
Bjørg Nikoma, Senior P2P Specialist at Telenor
Anders Linder, Head of Group Procurement Center of Excellence & Group Category Management at FLSmidth
About HICX
HICX is the highly flexible SaaS platform that provides seamless digital Supplier Information Management. We enable business to find, maintain, and re-use trusted supplier data and information throughout the Enterprise, across any spreadsheet, app or system.
Learn more via hicxsolutions.com
Listen to what they do!
EBG Business Directory | HICX
Find more details about HICX and how to get into contact with them through the EBG | Business Directory here.
What did HICX have to say about Source 2 Pay Summit as an online experience in 2020?
Needless to say – all EBGs summits rely on those attending making the most of the possibilities we provide. Months and hundreds of hours are spent preparing, rehearsing, connecting and testing – but at the end it is always (physically or online) up to those joining to make the most of it.
EBG were therefor extra glad to read the below summary written by Ragnar Lorentzen who led the two round table discussions:
"…"
"I was delighted to be invited to host a discussion on a topic close to my heart at the event, namely Supplier Data and Lifecycle Information Management.

Now, I want to level with you… Having spent more than ten years in the advisory and networking space myself, I know firsthand the value of coming together to share, learn and interact with one other. But doing it virtually? I have to admit, I was skeptical and had reasonably low expectations, a preconception that was wide of the mark.

I was positively surprised not only by the volume of attendees but also their engagement in the virtual environment, their willingness to speak up, to share perspectives and ask questions. This made for rich content at a level I did not expect. So, the lesson of the story here is, sometimes it's nice to have to admit you were wrong..!"
"…" Read the full post here. And again Thank You Ragnar for the feedback!

Source-to-Pay Summit 2020: When it's nice to be wrong